By Becca Castellano
U.S. Army Army Garrison Stuttgart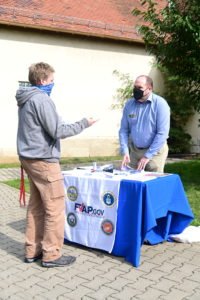 Registered voters can mail their general election ballots to the United States for free with Priority Mail Express military service.
Voters can bring their ballots to the post office and receive an 11-DoD label with a tracking number, which allows them to see where their ballot is on the United States Postal Service website.  
"Every ballot is highly accounted for from the second it's in our hands until it reaches its final destination," said U.S. Army Garrison Stuttgart's Postmaster, Larry Baricuatro. "All eyes are on us right now. Across the theater, if a mistake is made, we know about it within a couple days and we're notified on what corrections were made when it arrived stateside so we don't make that mistake again."
There are several checkpoints to intercept and correct issues before it is too late for ballots to be counted. Postal Supervisors or Leads inspect ballots to ensure each is filled out correctly and that legible post markings are applied before the Priority Mail Express military bag gets sealed.
"That post marking from our post office is what makes each ballot legal," said Baricuatro. "So when it gets put into our Automated Military Postal System Database and pushed out on our trucks, we can follow it and guarantee it gets where it needs to go."
The free Priority Express military mail system is available for any American voting absentee overseas, regardless of their status. For those unable to gain base access, Baricuatro said they can ask a gate guard to call the postal team and one of his mail clerks will come pick up their ballot and ensure it is mailed. 
With Election Day approaching, the postal team is often handling hundreds of ballots a day. Baricuatro said he is confident in his postal team to deliver each one on time. 
"This mission is of high importance but we knew this was coming," he said. "We're prepared for it and we know what we have to do to get it done right."
He added that ballots dropped in the box after hours on Election Day will be collected the next morning but postmarked for Nov. 3rd and mailed out. 
"We are doing our best to ensure that this important right is available to every American living in Stuttgart," said Sarah Evans, a Patch post office ballot lead. "If you get it to us filled out properly and on time, we'll get it home for you."
If a customer does not have an official ballot envelope, a stamp and envelope can be purchased at the post office. 
Download the USAG Stuttgart app for specific post office hours on each installation.