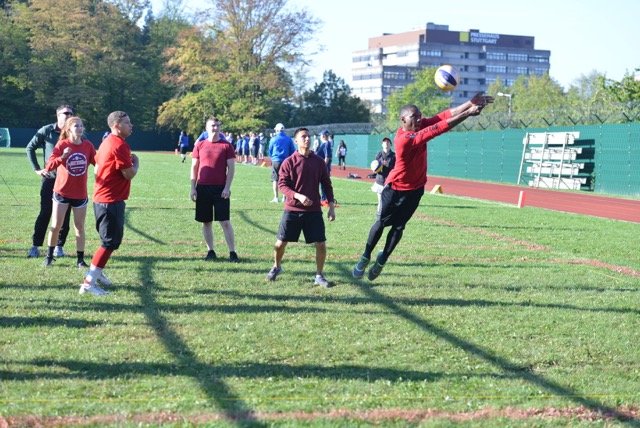 Story and photos by Staff Sgt. Grady Jones II
U.S. Africa Command
Public Affairs
U.S. Africa Command staff members and their families participated in the eighth annual AFRICOM Olympics on Kelly Barracks, Sept. 18.
The purpose of the event was to enhance esprit du corps and camaraderie across the command headquarters. Directorate teams from across the command were pitted against each other as they vied to win in various games such as flag football, 400-relay race, tug-of-war, volleyball, ultimate Frisbee and kickball.
The event was a culmination of three months of planning, according to Lt. Cmdr. Eric Newsome, logistics planner, J4 ARICOM, and lead planner for the event.
"A lot of what goes into it, the coordination with all the different organizations, and games," Newsome said . "It was a lot of work, but the real benefit is providing an opportunity for people to get together with their families and have fun."
Spec. Cody McDonald, Military Police, AFRICOM, participated in various events.
"I played Frisbee and tug of war," McDonald said. "I'm happy that I'm out enjoying the day. I get to come out here and play football, meet new people and hang out with friendly people."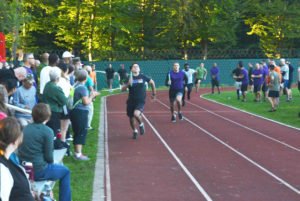 Fellow MP Staff Sgt. Bradley Childress reflected on having the chance to enjoy the event aside from the usual day-to-day demands of his job.
"I love being out here," Childress said. "We don't get to do this often because of the high operation tempo of my job, with traveling to and from Africa and the U.S. in support of the commander, but I'm glad to be out here today."
Patch Middle School students volunteers set up a face-painting station for the smaller children at the event.
"I wanted to give a shout-out to the face painting volunteers," said Debra Plageman, military spouse. "I think it's cool that they're out here supporting."
The food offerings raised funds for family readiness groups and military social events, while the team from the USAG Stuttgart Army Substance Abuse Program set up a station to feature information about the risks of impaired driving and risks of substance abuse.
"It's never too early to foster readiness and resiliency," said Cinda Robison, prevention coordinator, ASAP. "We want to increase awareness of different kinds of drugs and the risks of substance abuse.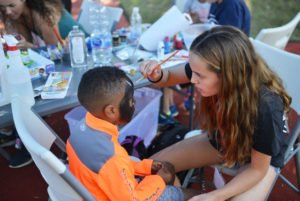 A good portion of what ASAP does is suicide prevention, Robison added.
"This is suicide prevention month, so we will also be in the schools for red ribbon which is about drug awareness," said Dr. Kaffie Clark, assistance programs coordinator, ASAP.
The AFRICOM Olympics closed with an award presentations and a few words by commander, Marine Gen. Thomas D. Waldhauser.
"I just want to thank everybody and all the organizations who donated their time and energy to the (AFRICOM) Olympics," said Waldhauser. "Thank you for your participation."