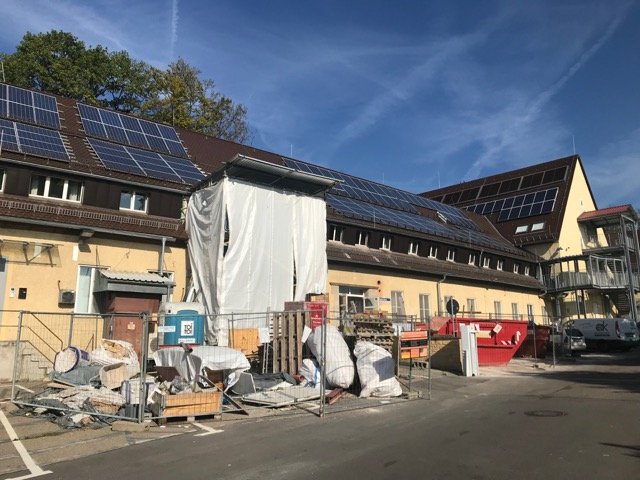 Story and photo by Spec. Jonathan Longoria
Paralegal Specialist, Military Justice
Stuttgart Law Center
Q:  I tried to get an appointment to see a lawyer, and nobody answered the phone.  When I went to their office to make an appointment in person, all their entrances were boarded up or covered in scaffolding. How do I get help?
A: Due to staffing limitations and ongoing construction, we know that it can be difficult to get through to our office.  To address this, the Stuttgart Law Center provides multiple ways for potential clients to find the help they need. The easiest way is to pick the phone and dial   A paralegal will answer, asking several questions to better assist you.  If all of the paralegals are working with other clients when you call (as is often the case), they will not be able to answer the phone. If you reach the voicemail, leave a message. Messages and responses are tracked and updated daily.
Your second option is to send us an email (a link to this email address can be found on the garrison website). When sending us the email, please be sure to provide us with a detailed summary of what the issue is, and the names of all parties involved.  Or, if you happen to be on Kelley, you may want to come to our office to schedule an appointment (more on how to navigate that maze below).
We have multiple attorneys who work with us, and each of them specialize in different areas.  The waiting time to meet with one varies, depending on our workload and your particular circumstances. We might be able to assist you more quickly when it comes to a will execution, but not as quickly as you might like when it comes to issues with your German landlord.
It is important you contact our office as soon as you become aware of a potential legal issue.
Powers of Attorney and notary services are always available, without appointment, during our normal business hours or at other times for emergencies.  Our office also provides walk-in services every Tuesday for American attorneys only, on a first-come-first-served basis.
Our facility is currently undergoing renovations, including the addition of an elevator. The old glass entrance doors are blocked off due to the current construction, making the building inaccessible from the front (by the barbershop and the bank). Make your way to the back of the building by walking around the outside or cutting through the community mail room, and you will notice scaffolding wrapped in white tarping, surrounded by construction materials.
We're not joking–that's the entrance. The staircase is there for your convenience.
Once at the top of the stairs (don't let the unexpectedly loud creaking dissuade you), you will find signs directing you to your final destination.
Hours and finding the SLC by phone or online
The SLC is located in Bldg. 3312, Rm. 230, Kelley Barracks. It's new hours of operation are weekdays, 9 a.m.-4:30 p.m., except Thursdays when the center is open 1-4:30 p.m. If you need further directions, call 421-4152 or 0711-729-4152, or email the SLC at usarmy.stuttgart.21-tsc.mbx.slcla@mail.mil.