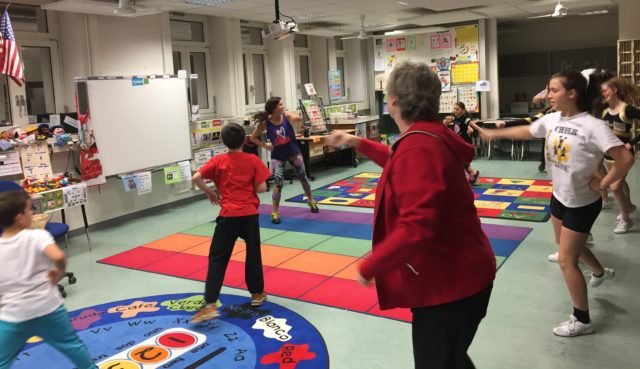 By Holly DeCarlo-White
USAG Stuttgart Public Affairs
Families experienced a multitude of health and fitness activities during Family Fitness Night, Jan. 19, hosted by the Robinson Barracks Elementary School's PTSA.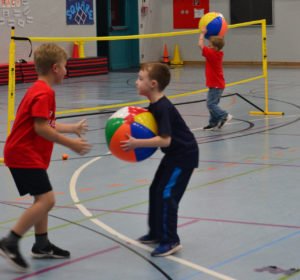 Stuttgart military community families with children of all ages were invited to the free event which spanned the RBES gymnasium and took over classrooms for more than a dozen activity stations. Families rotated between stations every 10 minutes by the sound of the intercom. Children collected wristbands and could collect a prize for completing the most activity stations.
"This year we identified health and fitness as one of our key themes for the year. We know that it's super important to get kids and families out exercising together, and this was an easy way for us to do that," said Beth Gregorio, RBES PTSA president.
This was the second time RBES has hosted this event. Instructors from Stuttgart's Family & MWR, Child & Youth Services SKIES programs and other community members volunteered their time to offer yoga, tumbling, boot camp, ballet, volleyball and more.
Volleyball was a favorite of RBES second grader Stella Wilson. She had only, "played it a little bit," before, but got to play it that night with other people she knew.
Robin Godlewski teaches Zumba on Patch Barracks, and Bootcamp on Panzer Kaserne for adults regularly during the week, and volunteered to teach Zumba to families throughout the evening.
"I love working with kids … they were just having a ball," Godlewski said, who is also a parent of two children, ages 12 and 16. Godlewski added that most had never done Zumba before.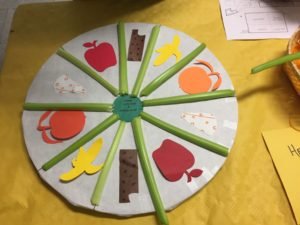 Community organizations, including the Stuttgart High School Cheerleaders, Army Substance Abuse Program (ASAP) and the Stuttgart Army Health Clinic's Public Health Nurse were also in attendance to support the activities and provide information, while AFN Stuttgart broadcast live from the gymnasium.
In addition to activities and community resources, water and snack stations were setup to show attendees healthy food options, courtesy of the RB Commissary. The water station incorporated flavored water choices from mint to fruit infusions, which have less sugar and additives than many store-bought options.
Health and fitness resources are available to all ID cardholders within U.S. Army Garrison Stuttgart through the Health Clinic, Wellness Center, ASAP, and the fitness centers.
For information on youth and adult fitness programs, visit http://stuttgart.armymwr.com.