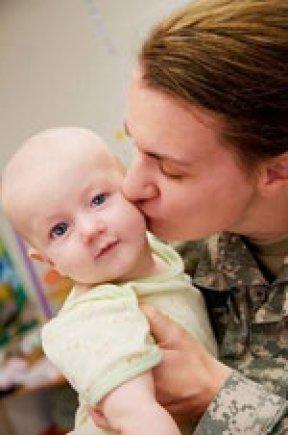 By USAG Stuttgart New Parent Support Program
Editor's Note: Originally published by Lisa Young, Health Educator, U.S. Army Public Health Command
Are you a military mom and want to keep breastfeeding your baby after you return to duty? Be encouraged by the fact that breastfeeding is a natural way to feed your baby. It advances your baby's physical, emotional, cognitive, and social growth.  It also benefits mother's health. In fact, August is Breastfeeding Awareness Month, a combined effort recognized every year in more than 120 countries to bring awareness to the benefits of breastfeeding. The focus is to promote exclusive breastfeeding for the first six months of an infant's life because of the many health benefits. Many highly respected organizations, such as the American Academy of Pediatrics, American Congress of Obstetricians and Gynecologists, American Public Health Association, United Nations International Children's Emergency Fund and the World Health Organization recognize breastfeeding as the best choice for a mother and her baby's health.
Breastfeeding until your baby is six months to a year old:
Gives your baby the best nutrition possible–your milk!
• Saves money. The average cost for baby formula is $100-$120 a month, about $30/can.
• Provides natural immunities and decreases the risk of illness in infants. This often means decreased absences from work for parents due to care of a sick child.
• Promotes bonding and can increase feelings of attachment and decrease risks of postpartum mood disorders such as postpartum depression and anxiety.
• May increase weight loss after birth. Breastfeeding mothers burn 300-500 extra calories per day producing breastmilk which can increase postnatal weight loss.
Many military moms find breastfeeding difficult when they return to work and some active duty mothers do not think it is even possible. Part of this is due to the working conditions, deployments, lack of time and place to pump breast milk, and not being around other breastfeeding women in the military. It is clear why military and active duty moms may view breastfeeding as tough.
Suggestions passed on by military moms that have been successful are:
Get professional support from the New Parent Support Team with lactation education and one on one support. Provided free by the US Army FAP and ACS.
Make breastfeeding plans before you deliver, i.e. where you are going to pump during the day and how you are going to store the milk.
Before you give birth and begin maternity leave, provide your supervisor with a memorandum explaining your breastfeeding plan and obtain their approval and support.
Enlist the support of unit and community leaders, friends who are also mothers, fathers/partners, lactation consultants, pregnancy educators and online support groups.
Research your installation and community for lactation rooms and electric pumps that you can use. Some commands, for example Defense Information Systems Agency(DISA), provide access to hospital grade breastpumps for mothers who are returning to work.
Use resources such as the site: breastfeedingincombatboots.com as a support.
Healthy People 2020, a federal agency that sets and tracks national health goals, states that breastfeeding is important to public health since our children's health affects the condition of families, communities and the health care system. Human breast milk is widely accepted as the most complete nutrition for most infants, with a range of benefits for their health, growth, and development. Human milk is made up of many nutrients that work together to promote optimal health for an infant.
The federal government added new provisions to laws in 2016 that protect a woman's right to breastfeed publicly, as well as to ensure proper space and time at the workplace. View the most up-to-date breastfeeding resources and federal policies here.
Breastfeeding in public may be challenging at times, but stay encouraged and know that support is available!
Here are some tips for breastfeeding in public:
You are welcome to breastfeed wherever and however you feel comfortable.
• Some mothers find it helpful to wear tops that allow easy access to their breasts.
• Breastfeeding your baby in a baby carrier may make it easier to keep your baby close to you.
• Practice at home so you can feel calm and confident. If you feel like you need a private space, there are lactation rooms available on all Stuttgart installations or try using a special breastfeeding blanket or cover. Always do whatever makes you feel comfortable.
• Try to feed your baby when you notice early hunger and feeding cues so you have time to get into a comfortable place or position.