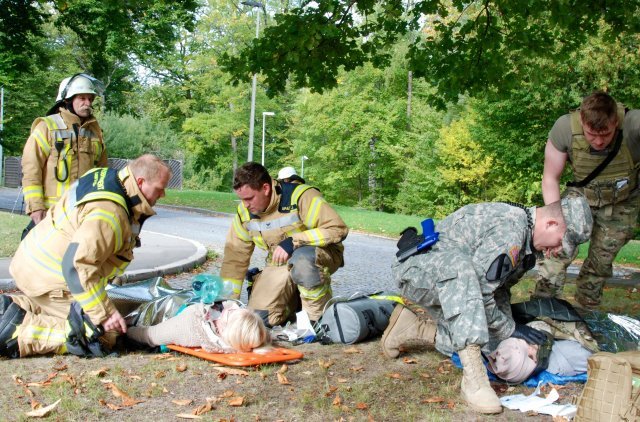 By Holly DeCarlo-White
USAG Stuttgart Public Affairs Office
The U.S. military provides support in emergency management all around the world, but if a disaster were to strike at U.S. Army Garrison Stuttgart, the military would have to rely on host nation emergency first responders and catastrophe management teams, in addition to American personnel.
To give both groups a chance to practice for emergencies, multiple events were staged on Panzer Kaserne, Sept. 26, as part of the garrison's annual force protection exercise, Stallion Shake.
Typically, guidance for a full-scale exercise is provided by the Homeland Security Exercise and Evaluation Program. The program's exercise policies constitute a national standard for exercise scenarios.
On Panzer Kaserne, incidents included an explosive device, active shooter, hazardous mail and fire.
In addition to U.S. Army Garrison Stuttgart's Directorate of Emergency Services, Military Police and firefighters, local German first responders, including Deutsches Rotes Kreuz, or German Red Cross, Fire Department Böblingen and Polizei personnel of the Ludwigsburg and Böblingen police departments, participated.
Minutes after the respective incident was reported, first responders arrived on scene.
"The response time from the services that were on base, and working in concert with the services off base, were excellent today," said Col. Glenn K. Dickenson, USAG Stuttgart commander.
"We had great interaction with emergency services from the city of Böblingen, as well as the Polizei, and the first aid response that came in. In conjunction with our services on base, we were able to mitigate those instances that happened on Panzer Kaserne," Dickenson added.
In case of an emergency, the military police are the first to call the garrison fire department. The fire department then calls the Information Coordination Center in Stuttgart, which requests and mobilizes necessary host nation support units. Upon the arrival of the firefighters (German and U.S.), the transition of the incident command takes place. German and U.S. first responders team up to combine resources and rescue efforts.
"It's really how we work with our host nation partners, and our services on base to protect our personnel. It's not just about who is behind the gate of the installations, but also the security for personnel around the area," Dickenson said.
Maj. Alex Ramage, director of USAG Stuttgart's Emergency Services, echoed Dickenson's sentiments on the positive host nation partnership during the joint Incident Command Post. "It was great to have the DES, Polizei, fire departments, and first responders all setup their command posts next to each other and facilitate communication throughout the exercise," Ramage said.
"We have a close relationship, our MP desk has emergency contact and phone numbers from all the Polizei districts that are connected with our garrisons," he added.
While there are always lessons to be learned and improvements to be made, overall, this year's force protection exercise demonstrated effective coordination between host nation and garrison rescue personnel, resources and equipment.
During any exercise, or joint training, that occurs on military installations, the welfare and safety of personnel as well as members of the neighboring communities remains a steadfast priority.
"It's not just my community, it's our community. We are here because of the great relationship that America and Germany have. It is really a great alliance …that makes us strong, whether it's strong here in Europe, or it's strong back in the United States.… We are here to be partners," Dickenson said.
To view the photo album, click here.