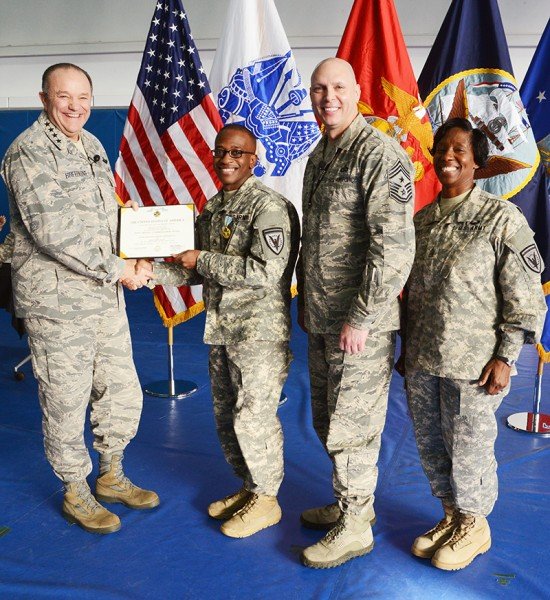 U.S. European Command Media Operations
Three service members and three civilian employees were honored as U.S. European Command's top service members and civilians during a ceremony Feb. 11 in the Patch Fitness Center.
Gen. Philip M. Breedlove, the EUCOM commander, presided over the 2014 Service Member and Civilian of the Year award ceremony.
Breedlove spoke about the challenges the command has faced over the past year and reassured the audience of approximately 500, saying "I'm confident we have the right team for 2015."
He was accompanied by Chief Master Sgt. Craig A. Adams, the EUCOM senior enlisted leader, who spoke about the command's accomplishments during the previous year.
The nominees were evaluated through a board process that examined each candidate using a whole-person approach, rather than just his or her work. As a result, the winners were selected for their contributions to their organization as well as community engagement.
"The nominees distinguished themselves though outstanding initiative, dedication and motivation to excel," said Chief Master Sgt. Reiko Meeks, C4/Cyber directorate's senior enlisted leader, who narrated the ceremony.
The awards are divided into three categories Junior, Mid-level and Senior for service members and Category I, II and III for civilians.
Each of the military category winners received a Joint Service Commendation Medal while the civilian category winners received a Joint Civilian Service Achievement Award. The winners also received gift certificates donated by AAFES, Edelweiss Lodge and Resort, Service Credit Union, United Airlines and United Service Organizations.
Military
Junior Service Member of the Year
Senior Airman John R. Wooten
ECJ2/RAF Molesworth
Mid-Level Service Member of the Year
Staff Sgt. Marvin A. Hannah
ECCH-HC/HQ EUCOM
Senior Service Member of the Year
Senior Chief Petty Officer William L. Hawkins
ECJ6/HQ EUCOM
Civilian
Category I (GS 1-8)
Sue E. Beil
J1OCUER/RAF Molesworth
Category II (GS 9-13)
Michael J. Bruce
ECCM/HQ USEUCOM Stuttgart
Category III (GS 14-15)
Scott L. Dunn
J-5/8/HQ USEUCOM Stuttgart