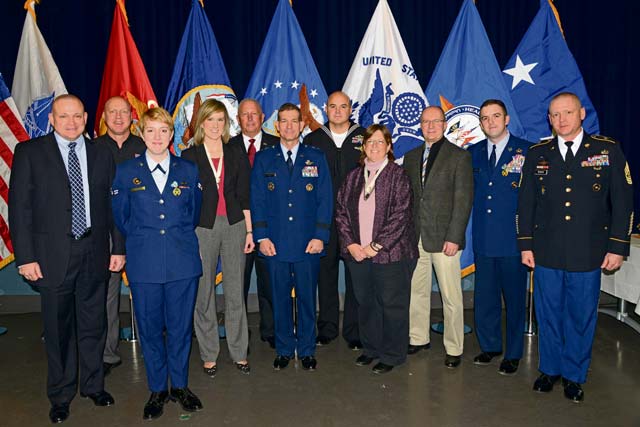 Maj. Gen. Mark Barrett, the U.S. EUCOM chief of staff, presided over the ceremony.
He commented on how 2013 was a challenging year for the command, adding it was one of his most challenging in the 34 years he's served in the U.S. Air Force.
Barrett said the challenges will remain in 2014, therefore he thanked the command for what they do every day.
"I do appreciate this headquarters and this staff on what you bring to the fight every single day," Barrett said. "The enthusiasm, the morale, the good nature — it helps me quite a bit as I go through the daily work.
"I want to personally thank you for your outstanding support and let you know how much I appreciate your hard work and dedication," he said.
Barrett said he looked forward to the great things to come from the U.S. EUCOM annual award nominees in the future.
"To our nominees," he said. "Congratulations. Thank you for what you do every day and I look forward to more great things out of you in the future."
Military winners
Junior Service Member
Airman 1st Class
Gabrielle Baughman
Joint Intelligence Center-Europe
Analytic Center
Mid-level Noncommissioned Officer
Petty Officer 1st Class
Brian Lee
Manpower, Personnel and
Administration Directorate
Senior Noncommissioned Officer
Master Sgt.
Daniel Spencer
Joint Intelligence Center-Europe
Analytic Center
Civilian winners
Category I – GS 1-8
(GG, LN, and WG Equivalent)
Kelly Hawkins
Directorate of Logistics
Category II – GS 9-13
(GG, LN, and WG Equivalent)
Abigail Goss
Directorate of Logistics
Category III – GS 14-15
(GG, LN, and WG Equivalent)
Linda Benedik
Directorate of Analysis and Assessments