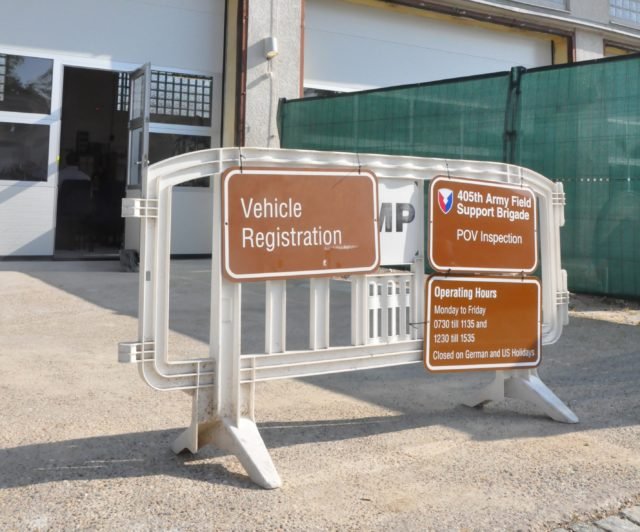 Public Affairs
USAG Stuttgart 
Between June and August of this year, the Stuttgart Directorate of Emergency Services Vehicle Registration Office on Panzer Kaserne expects more than 2,000 privately owned vehicle owners will need to renew their registration.
Because this timeframe also coincides with the peak Permanent Change of Station (PCS) season, customers are urged to check their registration expiration dates now and make appointments as early as 75 days in advance of their renewal date. Renewing early will not change the date of the vehicle's original registration date.
The garrison encourages advance planning for all-important services like vehicle registration, etc. Appointments can be made on the USAG Stuttgart mobile app: click "Appointments" or visit www.stuttgartcitizen.com/appointments.
Permanent Registration Renewal Checklist
DOD ID Card
U.S. Forces Certificate of License or Temporary U.S. Forces Certificate of License (AE Form 190-1G)
Renewal application from Motor Vehicle Registration (AE Form 190-10) or Application for Motor Vehicle Registration and Allied Transactions (AE Form 190-1AA)  POV
Must be inspected:

on-post inspection within 75 days
German TUV inspection within 30 days

Application must be stamped by on-post inspection station. If using German TUV, vehicle year, color, make, model and chassis (VIN) number must be on the form.
Credit/Debit Card, Check or Money order for registration payment ($35 per year of registration. A maximum of two years registration is available)
NOTE: Sponsor must be present if the registration does not list a joint owner. A spouse can reregister a vehicle if they have a power of attorney authorizing the registering of vehicles.