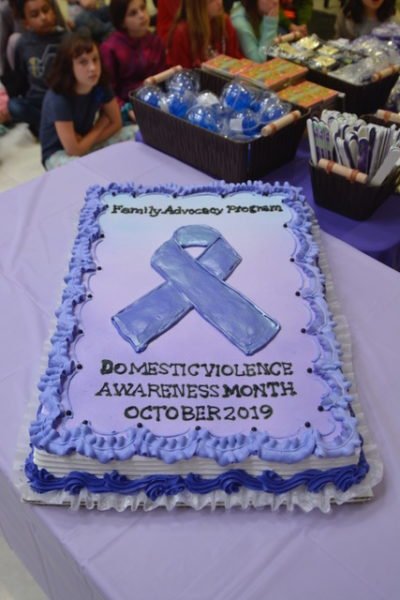 By Anna Maria Vestal
ACS Coordinator, Army Community Service
USAG Stuttgart
October is Domestic Violence Awareness Month, and the Army Community Service Family Advocacy Program is providing a variety of events to the community aimed at educating community members about the prevalence of domestic violence and encouraging them to act to stop this violence.
On Oct. 2, FAP kicked off DVAM by the signing of a proclamation the Panzer Exchange by garrison commander Col. Jason W. Condrey, including a cake, information and promotional items for attendees.
FAP will host a couple's craft workshop, 6:30 – 8:30 p.m., Oct. 4 at the Arts and Crafts Center, Patch Barracks. Couples will enhance their communication skills and increase relationship bonding through a joint painting project. The workshop is free and Child and Youth Services will provide free childcare to those who are registered, 6–9 p.m. at the Patch Child Care Center. Refreshments will be served. Advanced registration is required and space is limited, so call today.
The younger community members are invited to participate in the "Strong Kids Night Out,"  5:30–7:30 p.m., Oct. 24, at the Panzer Fitness Center. This free educational event is designed to empower kids through an interactive exploration of feelings followed by a self-defense class by U.S. Marine Forces-Europe. The event is open to boys and girls 10 to 17 years of age and participants must be accompanied by an adult. Pre-registration by Oct. 18 is required.
Want to know more?
For more information on ACS and FAP classes and events, visit ACS in Bldg. 2915, Panzer Kaserne, or call 596-3362 or 09641-70-596-3362.