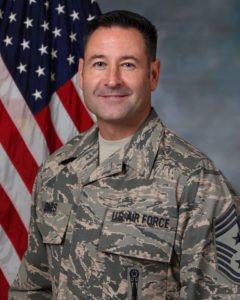 By Rick Brink
DeCA Europe Public Affairs Officer
Longtime commissary patron Chief Master Sgt. Wayne Jones is all eyes and ears – and mouth, and feet and hands – as he takes on his new duties as DeCA Europe's senior enlisted advisor.
"I look forward to hearing from our patrons and I am humbled by the opportunity to represent them," says the veteran Air Force nuclear maintenance specialist. "When they see me out and about, I want them to feel free to let me know how we're doing and what we can do to enhance their shopping experience."
Working out of the DeCA Europe Area headquarters at Kapaun Air Base, Germany, Jones sees himself as both a beneficiary and proud proponent of a valued military benefit set to undergo some transformation actions to make the commissary benefit more cost-effective, efficient and better able to protect the benefit for future generations.
"I'm getting out among our patrons and fielding questions as to how we are working to provide outstanding customer service, quality products at low prices and clean, well-stocked and orderly stores. DeCA is set to go through some transformation, and I'm more than happy to explain to senior leadership and our patrons how we are working to continue the great service and provide great savings as we transform," Jones said.
As the area senior enlisted advisor, Jones reports to the executive director of DeCA's Store Operations Group, Keith Hagenbuch. He works with Area Director Norman Brown, serving as store operation's connection to commissary patrons in Europe. Jones also serves as the agency's chief liaison with local senior enlisted leaders.
Jones works in tandem with Air Force Command Chief Master Sgt. Stuart M. Allison, DeCA's senior enlisted advisor to the agency director.
He follows Air Force Command Chief Master Sgt. Stephen M. Kazmirski who rotated after serving from 2014 to the spring of 2016.
During his 25-year career Jones says he's pushed many a cart down commissary aisles to provide for his family of five. The benefit means as much now as it did when he first started shopping.
"The product quality and low everyday prices have always been important because raising a family on our budget was challenging and we were always looking for ways to save money. Shopping at the commissary enabled us to do just that, and that's something I want to see continue," Jones said.
His time with DeCA marks Jones' third overseas assignment. In the mid 90's he served in a munitions support squadron in Greece followed by a four-year tour with an equipment maintenance squadron in England. He came to DeCA in October after serving as chief enlisted manager for Air Force Global Strike Command, Nuclear Control Point at Kirtland Air Force Base, New Mexico.
The continuity of quality and value from commissary to commissary has been a significant quality of life issue during his military career. To access Jones' full biography, go to https://commissaries.com/press_room/documents/organization/wayne-jones_bio.pdf.
"Overseas the commissary is an extension of home. We've got access to predominately the same quality products from one assignment to the next, with a welcome addition of some locally available items that are popular with our patrons," he said.
DeCA's Europe Area operates 33 commissaries in 10 countries and Jones advises the area director on service members' needs related to the commissary benefit while serving as a liaison with installation leaders. He can be reached at wayne.jones@deca.mil.
For more information on DeCA's transformation initiative see the Transformation FAQ's at www.commissaries.com.