For those interested in attending lectures, experiencing art work, reading English language magazines and meeting Germans and Americans — all in one location — the Deutsch-Amerikanisches Zentrum/James-F.-Byrnes Institute might be worth a visit.
The DAZ opened its doors to the public in 1995 and succeeded the former Stuttgart Amerika Haus, which had closed the same year.
America Houses were founded by the U.S. military government throughout the American occupation zones in Germany following World War II. The facilities were critical to U.S. re-education politics and to communicate democratic values to the German people, according to Christiane Pyka, director of the Deutsch-Amerikanisches Zentrum/James-F.-Byrnes Institute.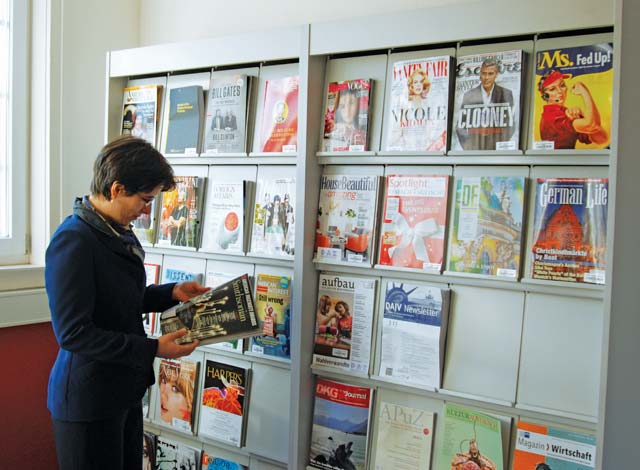 "Germans were truly appreciative of these institutions. They could borrow books, gramophone records, or attend concerts, exhibitions and lectures – all for free," Pyka said. "This was important, also for the younger generation, since a cultural and educational exchange between Germany and the U.S. happened here."
While the political meaning may have changed, the DAZ's mission today still is to foster German-American relationships by engaging in a cultural exchange, according to Pyka.
"The DAZ provides a platform for Germans and Americans to meet and interact," Pyka said.
The DAZ is supported by the Baden-Württemberg state government and the city of Stuttgart, but also works closely with foundations, clubs and cultural centers to offer varied information on social, cultural, political and economical topics related to Germany and the U.S., Pyka said.
The center's cultural program mainly consists of lectures, concerts, movie showings, exhibitions, workshops and discussions in either German or English, or both.
"The DAZ also offers conversation and language courses, information about the U.S. and student exchange programs," Pyka said.
Another highlight is the DAZ library stocked with English language books ranging from history to fantasy, as well as magazines, newspapers and movies.
"We also have various groups with German and American members that are vital to our events calendar, such as the Transatlantic ArtConneXion, readers, writers and quilting groups and a transatlantic 'Stammtisch,'" Pyka said.
The DAZ also works with the United Service Organizations and the U.S. Army Garrison Stuttgart on co-hosted events such as the Super Bowl party on Panzer Kaserne or "backstage" tours that provide Germans the chance to see what life looks like on a U.S. military installation in Germany, Pyka said.
"With the U.S. military being here in Stuttgart, people don't need to fly to the U.S. to get in touch with Americans. The military installations are resources to learn about the American people, culture and everyday life. 'Little America' can be experienced in Stuttgart," Pyka said.
Many times, members of the U.S. forces officially participate or speak during DAZ events, she added.
The DAZ was named after the U.S. Secretary of State James F. Byrnes, who gave the Speech of Hope, or Stuttgart Speech, on Sept. 6, 1946, at the Stuttgart State Theater.
In his speech, Byrnes promised that Germany would be rebuilt and not divided economically, and that Germans would be allowed to govern themselves democratically. The speech set course for post-war engagements between the U.S. and Germany.
"This emphasizes the meaning of the DAZ, especially in Stuttgart, as a focal point between the two nations," Pyka said. "Therefore, it is a commitment and honor to be named after James F. Byrnes. The DAZ stands as a reminder about what this American politician did for Germany."
The Deutsch-Amerikanisches Zentrum is located at Charlottenplatz 17 (courtyard, entrance 3), 70173 Stuttgart. The DAZ is open Tuesday to Friday from 9 a.m. to 1 p.m. and 2-5 p.m.
For more information, or to become a DAZ member, visit www.daz.org, or call civ. 0711-22818-0.