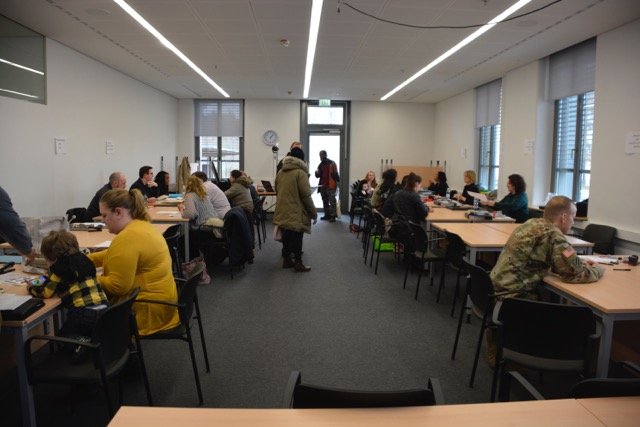 Story by John Reese
USAG Stuttgart Public Affairs
A team from the U.S. Consulate in Frankfurt held an outreach day, Jan. 31, to assist the Stuttgart military community with tourist passport applications, reports for births abroad and more.
"We're here to serve the community. We do an outreach for those who can't come up to Frankfurt," explained Sevak Tsaturyn, consular officer, Frankfurt, and the busiest guy in the classroom of the Central Processing Facility, Bldg. 2913, Panzer Kaserne. "We come here, probably a couple of times per year, to reach out to the community to do their paperwork for their passports."
Normally, the CPF is in-processing incoming adult personnel. However, on this day, its two classrooms were crowded with families for the 123 passport application appointments. By taking advantage of the outreach, community members cut weeks of time off of applying for and receiving their passports.
"In a day, we usually have 15 appointments, plus walk-ins who have to wait," said garrison Human Resources assistant Marion Bruce. "We are actually booked for our (passport) appointments through February now; on Monday (Jan. 29), I had open March for appointments."
The garrison passport office, located in Panzer Kaserne's Bldg. 2915, is currently booking passport applications four-to-six weeks out. Once that appointment is completed, it takes four-to-six weeks to get a tourist passport returned.
"So you're talking a good three months if you're waiting for an appointment with us and then waiting for the passport to come back," Bruce said.
Joselyn Uribe-Huitron, acting chief of the garrison's Military Personnel Division, was constantly going between classrooms to keep the line moving, shepherding them to the consulate representative they needed to speak with or busily providing copies of necessary documents for customers.
"I'm making sure the flow of customers and the processing times are cut in half by using the classrooms to have the passport agents brief the customers on what they need to do, so it's just a one-stop," Uribe-Huitron said "They come in (to the first classroom), see the counselor and move-out on their appointment time."
Two representatives from the consulate's Federal Benefits Unit were present to assist American citizens wishing to file for a Social Security number card – a routine thing to do when someone is applying for a U.S. passport for the first time. They also provided general information on other kinds of federal benefits, including Social Security retirement benefits, people with problems reporting earnings, Veterans Affairs needs and Social Security questions. There was also a representative from the Immigration VISA Section answering questions about permanent residency and citizenship.
"This helps our office out immensely," said Juan Aguilar, USAG Stuttgart Passport Office. "We're here to serve the Stuttgart community, and this is a great help getting people passport appointments. We appreciate the consulate coming down here and assisting us."
A number of infants and children were present with their parents.
"We have at least 33 newborns here today to apply for their Consular Report of Birth Abroad (DS-2029), which is their certificate of citizenship and the equivalent of an American birth certificate," Bruce said.
The report is necessary for the baby's first passport to prove they're American citizens and make them eligible to travel with their parents. If parents attempt to travel with children without proof of citizenship, they could be stopped from leaving or entering Germany, Bruce explained.
"They should have, at least, a birth certificate and passport with them," Bruce said. "There have been kidnappings in Europe and (officials) have stopped parents coming back from other countries to Germany – even driving – and they will separate them from their child or children until they determine its their baby."
The reaction to the outreach by community members was overwhelmingly positive.
"We've had amazing support from the consulate general and the community," Uribe-Huitron said, "Everyone's been happy."
Tsaturyn agreed, noting the positive response from the community.
"It's great," Tsaturyn said. "Everyone is always thanking us for coming out. It's a service we provide, so it's good to be out here."
Community members who missed the outreach day can learn more by visiting the garrison Passport Office  or they may make an appointment with the Stuttgart Passport Office at DSN 431-2767 or civ 07031-15-2767/2301/2539/2009. For those able to make the journey to the Frankfurt Consulate for more information.