By Becca Castellano
U.S. Army Garrison Stuttgart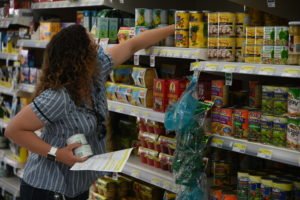 On April 17, curbside shopping opened at Robinson Barracks Commissary to protect high-risk customers from possible exposure to COVID-19.
Since then, the concierge program has expanded to the Panzer Kaserne, Kelly and Patch Barracks commissaries, and added a delivery option for those quarantined both on and off post. Over the past six months, more than 115 families have benefited from it.
The Army Community Service-run program pairs volunteer shoppers with community members who cannot enter the commissary due to quarantine or other COVID-related circumstances. The program can be accessed through the U.S. Army Garrison Stuttgart app or by sending a message to the USAG Stuttgart ACS Facebook page. On the app, the customer can see what is available at their commissary and create a shopping list.
ACS connects volunteers with customers to coordinate times to shop and receive goods delivered curbside or at their residence. Customers must be available for phone calls during the scheduled shopping time in case list substitutions need approval, and to provide credit card details to the cashier at checkout.
Becki Eggers first used the program when her family of six was quarantined after her high schoolers had classroom contact with a positive COVID-19 case.
"This program exceeded all my best hopes, let alone any of my expectations."
"This program exceeded all my best hopes, let alone any of my expectations," said Eggers, in an online group chat. "I sent my initial email, including my longer-than-average-list, because I have two teenage boys with free access to the kitchen, and was surprised when a response came within minutes."
Despite the three-day window for requests to be filled, she was connected to a shopper within an hour and maintained contact throughout the shopping trip. Eggers, who hates to impose on others, said she is grateful for this program and the volunteers who donate their time.
ACS Admin Support Assistant, Debbie Slaughter, said the program will continue to play a vital role in the community, especially during upcoming holidays and for those PCSing.
"Thanksgiving might be more intimate this year but some traditions, like the food, can be the same for quarantined families through our volunteers," said Slaughter. "There's no better time to be thankful for what we have and the volunteers that are out there making it happen."
One of those volunteers, Mary Jeffcoat, said the program gives her family the perfect opportunity to give back to their new community.
"I always look for a way for us to plug in at all of our assignments but between COVID, four kids and a spouse who works different shifts, it's hard to volunteer just anywhere," said Jeffcoat. "But this we can do. It is an unfamiliar time we are living in, but grocery shopping is not."
To volunteer or request assistance shopping, download the USAG Stuttgart app and select the COVID-19 button, then concierge.