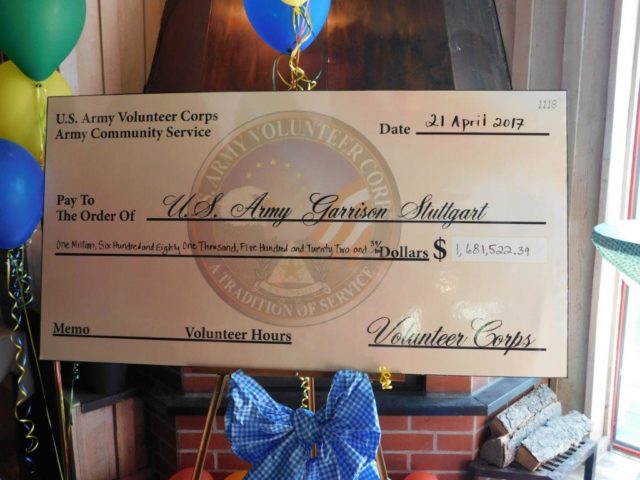 By Larry Reilly
USAG Stuttgart Public Affairs Office
Members of the U.S. Army Garrison Stuttgart military community volunteered the equivalent of $1,681,522.34 of their personal time to various Stuttgart community events, programs and services in 2016.
During a recent ceremony at the Patch Barracks Community Center, the garrison command team recognized the top volunteers in five categories.
After showcasing a larger-than-life volunteer check and challenging the community to top the amount next year, Col. Glenn K. Dickenson, commander, USAG Stuttgart, recognized the top civilian, military, senior, spouse and youth volunteers of the year.
Civilian Volunteer of the Year
Volunteering for the American Red Cross, Barbel Sonnenmoser provided services as a translator, coordinated numerous special events, provided her talents as a caseworker and was the agency's liaison to the German community, which resulted in ARC being invited to share in the Deutsch Red Cross' 150 year celebration and in turn reaffirmed a great bond between the two International Red Cross agencies. Her liaison skills helped garrison community members to assist the local community with its influx of refugees to connect with the local organizations helping the refugee families.
There is a long list of services Sonnenmoser has provided ARC throughout the year. However, it has been the longevity of her continuous service that stands out most.
"When a friend asked me 18 years ago if I'd like to volunteer, I was not sure whether I should, but after a very short time, I felt like this is what I really like to do," Sonnenmoser said. "I am happy and proud for getting recognized; I like everything I do."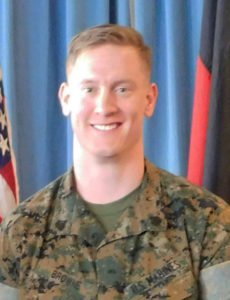 Military Volunteer of the Year
Volunteering for the U.S. Marine Corps Forces Europe and Africa, Sgt. David Browne organized activities each quarter for single Marines. He was the Single Marine Program lead, the Marine's B.O.S.S. representative and an advocate for single Marines in the Stuttgart community. Throughout the year, Browne volunteered for numerous events such as the USO's Sun and Fun Day and the Family and Morale, Welfare and Recreation's 5K Glow Run. He coached the 5-6 year old youth soccer team on Panzer Kaserne, was a strong advocate for volunteering and he coordinated the volunteer efforts of his fellow Marines.
"Being stationed overseas, I don't get to see my family very often, so I enjoy the opportunity to interact with the families and children of my community at any given chance," Browne said. "Being recognized as the Military Volunteer of the Year is quite an honor. I have been volunteering for roughly six years and I have gotten the most out of coaching youth soccer, although it is sometimes the most mentally tasking – like herding cats. If presented with an occasion to volunteer, I would recommend to everyone to seize that chance, because you never know how far a helping hand can go."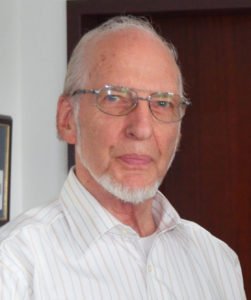 Senior Volunteer of the Year
Ronald Taubitz volunteered as the Army Community Service's German Immersion Instructor where his bilingual talents and wealth of knowledge introduced a dozen community members each week to the native language, culture and customs of Germany. When he was not sharing his nuggets of knowledge on life in Germany with community members at ACS, he could be found at the Value Added Tax office providing VAT forms and knowledge of the program to the community. More than 400 people participated in his weekly immersion classes last year, and if Taubitz had his way, he would've doubled that number.
"I'm honored to have been selected as (Senior Volunteer of the Year).  I only wish I could do more, but my time and energy are limited at my age," Taubitz said. "I recommend volunteering to anyone who wants to put meaning into his or her life and remain active emotionally as well as physically and intellectually."
Taubitz said that the thing he most enjoys most about his volunteering is the contact he has with the Stuttgart military community and the great people he works with who support his efforts.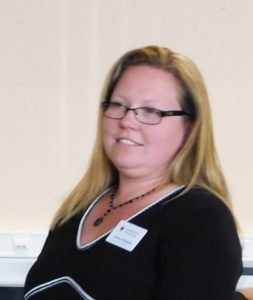 Spouse Volunteer of the Year
Carey Holmes volunteered more than 800 hours with the ARC as its community volunteer lead, managed the local ARC Facebook page, and served as events coordinator and disaster team member. She participated in the garrison's Community Activities, Registration and Education Fair and Stallion Shake disaster exercise. She spearheaded such ARC events as the Baby Expo and Christmas Salute to the Troops, and had oversight of the 2016 blood drive. With 17 years of volunteering experience, Holmes has taken on a number of different tasks and responsibilities, but has always tried to stay out of the spotlight.
"I am honored to be selected as the Spouse Volunteer of the Year. I do not typically like being in the spotlight, but it feels good to know that the time I have given has made a difference," Holmes said. "Volunteering has taken me out of my comfort zone more than once, but looking back, I know it has made me a better person. While volunteering, I have met some of the most amazing people that I probably would not have met otherwise."
Youth Volunteer of the Year
As a professionally licensed U.S. Soccer Federation coach at the young age of 16, Ryan Breithaupt volunteered the bulk of his personal free time as an assistant coach for the U.S. Youth Soccer (USYS) U-9 coed select level team and the Child & Youth Services (CYS) sports soccer U-6 and U-15 junior soccer teams. When he wasn't mentoring youth on how to play soccer, he provided coaching techniques and structure to new coaches at spring and fall CYS-Sports soccer coaches clinics.
Off the soccer field, he dedicated time at the Stuttgart Veterinary Treatment Facility finding homes for abandoned pets, and volunteered with the chapel and ARC.
Breithaupt was selected to the USYS-Europe Olympic Development Soccer Program. His busy schedule prevented him from attending the ceremony.
1,000 volunteer hours
Prior to announcing the five Volunteer of the Year winners, the garrison command team recognized Kirstin DeLuca, Gudrun Kaper, Carey Holmes, Debbie Sonnenfeld and Heidi Summer for volunteering more than 1,000 hours during 2016.