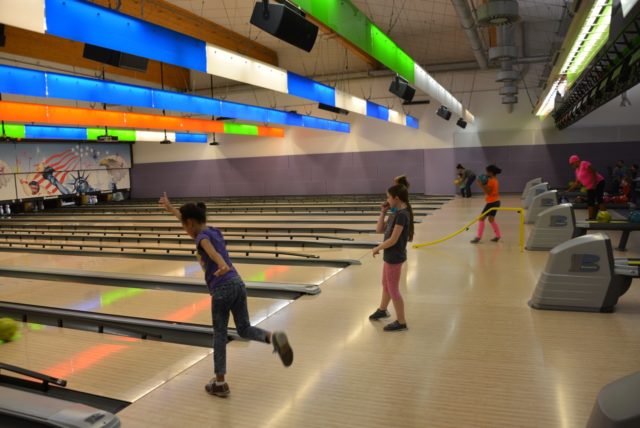 By Larry Reilly
USAG Stuttgart Public Affairs
The bowling lanes were full, the chicken was hot off the grill and more than 230 community members gathered at the Panzer Galaxy Bowling and Entertainment Center, Oct. 19, to participate in Bowling for Healthy Families night.
The gathering was the bookend event to a number of activities throughout October that helped recognize Domestic Violence Awareness month and the importance of learning how to prevent domestic violence.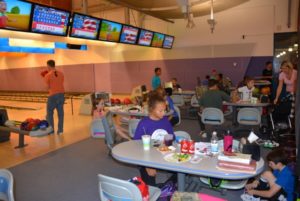 "There is no better way to help recognize a tough topic like domestic violence than to provide a friendly and fun event where families can eat, play and strengthen their bond," said Kerry Dauphinee, event coordinator, Army Community Services.
During the event, the families were provided with educational information on how to prevent domestic violence. However, the evening was all about giving families a place to come together.
"The bowling night was a great idea and truly did provide me and my children a chance to get out and do something that we really enjoy doing as a family," said Tony Conceicao, whose children, Gaia and Tomaso, joined him for bowling.
Along with the free bowling games, chicken and salad, participants were able to win a number of free prizes such as movie passes, weekend stays at a hotel or equipment like a brand new bowling ball.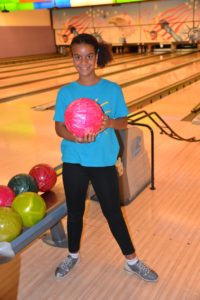 "Oct. 19 is now the luckiest day in my life," said 10-year-old Gaia Conceicao, who won a brand new pink and
white bowling ball that was fitted so she could use it that night. "I really love to bowl with my family and I thought I would have to wait until I could get a job before I could own a bowling ball."
"The evening was all about having fun and building unity within the families that participated; for that in itself can truly help reduce the number of domestic violence incidents within the community and in the Army," Dauphinee said.