by John Reese
USAG Stuttgart Public Affairs
In a strong show of support to a "purple" joint service community of retirees in the Stuttgart area, about two hundred participants used services and garnered information at the U.S. Army Garrison Stuttgart's 10th annual Retiree Appreciation Day, Oct. 19.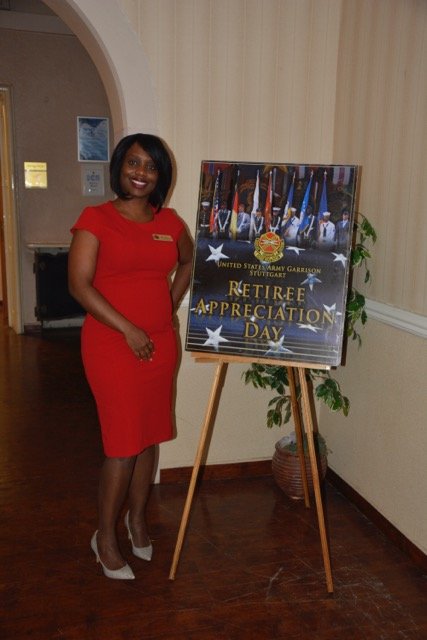 The event at the Swabian Special Events Center, Patch Barracks, featured multiple USAG Stuttgart agencies together with federal and service organizations sharing the latest medical, financial and federal benefit administrative support services offered. Participants scheduled dental and medical exams, checked their blood pressure and spoke with dozens of representatives from Veterans Affairs, Defense Finance and Accounting Service, the Social Security Administration and more.
Former Soldiers attend most Army garrison RADs in the continental U.S. However, reflecting the joint service nature of the Stuttgart military community, the retired participants came from all branches of service.
"Stuttgart is a purple community. I've spoken with Navy and Air Force retirees," said Mary "Tweedy" Knef, representing USAG Stuttgart Family & Morale, Welfare and Recreation. "This is a joint service community. RAD makes it easy for them to have everything in one place, so they can ask questions while representatives of different agencies are here."
The Stuttgart Health Clinic had an entire room offering free vision screenings, immunizations and wellness/preventative health information.
"Getting immunized is very important, so if you do end up getting sick, you won't be as sick than if you didn't get it," said Frances Barlock, nurse case manager, Patch Health Clinic. "The symptoms will be milder for you and it protects people who have COPD (chronic obstructive pulmonary disease), diabetes – and its highly recommended for people over 50 to get their flu shots."
For retirees who missed RAD, Barlock recommends visiting the clinic 7:30 a.m. – 4 p.m., or coming for one of the upcoming special Saturday vaccination days.
"We're trying to get everybody immunized," Barlock said.
Dental specialists Sgt. Amos Ngilla and Spc. Amanda Eubanks, Panzer Dental Clinic, kept busy scheduling dental exams.
"We're here today to accommodate all of our great veterans who served our nation, to get them appointments for their dental hygiene exam and cleaning, and to make sure they're taken care of and well off on their dental readiness," Ngilla said.
The dental clinic has many retiree patients, Eubanks added.
"We're helping the retirees, the ones who set the path for us. We try to take care of them the best we can at our facility," Eubanks said. "We're making sure they get their exams and cleaning today. We've booked a full schedule dedicated just to RAD."
The American Red Cross checked blood pressures and explained its many services, while next to them Veterans Affairs was one of the busier spots in the room as everyone present used its services. Another busy table was the Federal Benefits Unit from the American Consulate in Frankfurt, representing the Social Security Administration and other important federal services.
"We had a lot of Social Security issues, where people are asking us for specific information on their retirement age, on the amount of benefits they may receive, or have questions regarding survivor benefits," said claims representative Anya Baethäs.
Visiting Stuttgart is a special occasion for the consulate staff, Baethäs said, ticking off a few other RADs she recently attended.
"We like to attend the RADs around the country," she said.
The Defense Commissary Agency (DeCA) and the Army and Air Force Exchange Service were present to answer questions, show off products and share some bling.
"DeCA is here today to show our appreciation to our retirees, and to educate them on what's going on at the commissaries," said Melquiadeth Supinger, manager, Kelley Barracks Commissary. "Recently we launched our own private label brands: Home Base, Freedom's Choice and Top Care."
Retirees learned they can purchase commissary grocery gift cards and use a rewards card to download coupons, Supinger said.
Mette Czarzasty, AAFES supervisor for central checkout, Panzer Exchange, had many conversations with retirees who want to buy American goods.
"We're here to let the retirees know what we can do for them, and that we appreciate them coming and shopping. It's not always easy," Czarzasty said. She was surprised that 99 percent of the retiree community was already shopping at the Exchange and using the AAFES Star Card.
"The benefits of the Star Card are now much, much better," she said. "It's been improving over the years and I'm glad that the retired population uses it."
Supinger and Czarzasty both noted the commissaries in the Stuttgart military community will now be accepting the AAFES Military Star Card.
Kevin and Carol Maddox, Panzer Optometry optician and office manager, respectively, were also at the AAFES table offering glasses cleaning kits and info.
"We've been having a great interaction with the retirees," Carol said. "We've seen people who aren't sure that, as retirees, they're able to use our services. We've been able to let them know they're welcome."
"Glasses on the German economy just skyrocketed and we try our best to keep them at U.S. prices," Kevin added.
Retired Army major Herrick Marden and his wife Ursaal came for the retiree meeting at the start, but encountered Juan Aguilar from the garrison Passport Office. Since Marden needed his passport renewed, Aguilar set him up to dash over to Panzer Kaserne and take care of it.
"I was in and out quicker than eating my lunch," Marden said, eating his lunch from a spread provided for the retirees. "They were ready and waiting for us. Juan sent me, told me where to go and what I should do."
Marden, who retired in 1992 and lives an hour and a half away, had all of his ducks in order and didn't require many of the services offered. Still, he came to attend the RAD meeting and was spared a trip to Frankfurt.
"Before, we had Heidelberg and all of the services we needed," Marden said. "I wouldn't have come to Panzer to do my passport, because I thought I had to go to consulate to do that, and what a drag that would've been."
Following lunch, the retirees filtered for their scheduled appointments and RAD 2017 ended.
"I think it's great that the garrison does this for the community, because the retirees have sacrificed so much in service to our country and we're here to give back to them," Knef said.
Retired or retiring soon?
Learn more about the Army Retirement Services at https://soldierforlife.army.mil/retirement/rads.