By John Reese
USAG Stuttgart Public Affairs
Stressed out? Want to kick the habit? Want to eat healthier and be in better condition in 2020? The Stuttgart Army Wellness Center on Patch Barracks is here to help.
The center offers four primary services: wellness classes and body composition, fitness and metabolic tests.  The goal is to provide "integrated and standardized primary prevention programs and services that promote enhanced and sustained healthy lifestyles to improve the overall well-being of service members and their families."
The Army Wellness Center isn't just for Soldiers. Service members from all branches may use the center to improve their health and well-being. Testing and other results are digitally maintained by centers worldwide, meaning any service member with access to an Army Wellness Center.
"They have access to every test they've ever participated in. As long as there's an Army Wellness Center, they can pull those results," said center director Felicia Hanes. "I think that because we are a joint base, that this is just one of the locations that we see everybody."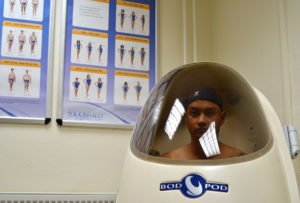 The Army created the wellness center concept for Soldiers and the Navy followed suit. The Air Force used to have a program but didn't standardize any of its processes.
"All of our processes are standardized, right down to the slideshow that we play for the classes. We've been able to maintain a standard across the Army, so the services you get in Stuttgart, you're going to get at Camp Zama, Japan, or Fort Bragg, North Carolina," Hanes said. "You know what to expect when you walk in, and your results follow you because we have a centralized database that we enter your results in. From here, your results transfer and then everything is compiled so you know two years ago what your results were versus now."
One of the primary wellness services used by people seeking to improve the quality of their health at the Stuttgart center is the Bod Pod, a body composition testing pod people that uses air instead of water to determine the percentage of a person's body fat and muscle.
"Next to hydrostatic testing, which is the gold standard of body fat composition testing, the bod pod is maybe 1-2 percent off of hydrostatic testing," Hanes said.  "It's very accurate—the second most accurate form of testing you can get."
The pod measures air instead of water displacement and is much easier to maintain and more cost effective than having a hydrostatic tank. To be tested, men must wear something like above-the-knee spandex bicyclist pants and women wear a swimsuit or a sports bra without any padding or underwire (cotton isn't advised because air can flow through it) while they sit in the pod for a 30-second session after it is first calibrated empty. Users can't get in with any kind of jewelry because the pod picks that up as muscles. If one has metal plates under the skin, it's kind of like being a Terminator being able to time travel, because metal under flesh over isn't read by the pod. The pod then measures the density and air displacement of the person inside for fat-free and body fat measurements. The measurement for fat-free is everything that's not fat, such as blood, muscles and internal organs.
A service such as the Army Wellness Program would cost $75 every single visit on the economy. The metabolic tests would cost $150–175, Hanes noted.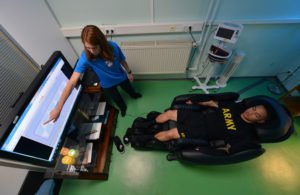 Being in the pod "wasn't really claustrophobic, but I can see it being that way for some people," said Sgt. Jay Susi, physical therapy noncommissioned officer in charge, Army Health Clinic-Stuttgart. "For me, it was fine. I did it for my health, to see where I was and how I could improve."
Susi's job as an Army physical therapist working at the Wellness Center is to help anyone who's injured with rehabilitation. He sees many wounded warriors from all branches of service, noting there's a large population of them here, many of them older and higher ranking. Working in a joint service environment is inciteful, Susi said.
"I'm able to talk to the other branches and see how different it is from the Army, and just learn about other branches in general," Susi said.
As a medical Soldier, Susi said he speaks with the professionals at the Wellness Center to gain more knowledge.
"We talked about my diet and where I could change it to decrease my body fat. I think that it's useful information that anybody can have," Susi said.
There are a couple of different ways service members and DoD civilians can contact the Wellness Center, Hanes said.
"They can call us at our appointment line to make an appointment; it's self-referral–you do not have to have a referral by a doctor–you can walk in the door, even for our bod-pods as long as you've followed the fasting and pre-testing protocol," Hanes said.
The center offers a trifold with information about fasting before testing, which includes no caffeine or nicotine. The fasting period for testing is two hours; the metabolic fasting for testing is five hours, but Hanes suggests scheduling an appointment for the morning and eating breakfast after being measured in the bod pod, similar to when one has blood drawn for testing. She added that some people  bring their breakfast and coffee with them so they may eat as soon as the test is over.
The path to better health
The Stuttgart Army Wellness Center offers classes such as upping metabolism, quick and healthy meals, sleeping habits and more. It's located in Bldg. 2337, Patch Barracks. Call 590-1601 or 06371 9464 1601 to make an appointment, then complete the health assessment prior to your appointment at https://awc.army.mil.