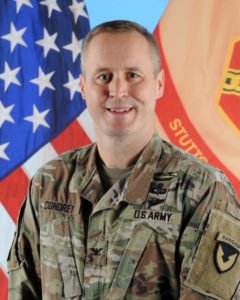 By Col. Jason W. Condrey
Commander
USAG Stuttgart
Over the past year, U.S. Army Garrison Stuttgart has seen many changes, many of them were improvements to exchange affect the quality of life for military members and their families.
Much of our focus has been toward improving on-post housing.
Since taking command, I have hosted two housing town halls, Sept. 23 at Panzer Kaserne and Dec. 11 at Kelley Barracks. Each time I have enjoyed engaging the dialogue with concerned community members, both in person and via our Facebook livestream. Your feedback has guided our work and initiatives. I am grateful to have community input that has helped our team move forward and tackle some tough issues – those that are important to you.
We recognize there is more work to be done.
In October, we initiated a maintenance surge to address the large backlog of open work orders in our on-post housing and operational facilities. Since then, our base maintenance contractor completed 2,800 work orders, 700 were emergency repairs. At the same time, our community has about 2,700 new work orders. It is clear, we will need to maintain a constant push to meet the high expectations we have for our homes and places of duty.
I encourage our service members and families living in our on-post housing to remain engaged, to include coming to our next housing town hall at Patch Barracks in March.
On the mission side, we are taking prudent measures to support our local commands. In recent months, we met with leaders from our local tenant units. Now, are planning how to best support our post in the coming years. That means prioritizing projects, working under constrained budgets, with manpower limitations and understanding how unit missions will evolve here at USAG Stuttgart in the years ahead. We have some dated infrastructure and overcrowding that affects your missions directly and indirectly. Finding resources and moving plans forward is a persistent requirement that we will undertake with an informed and transparent approach.
We will often communicate progress to our community members. Our updated mobile app, plus improvements to Stuttgart Citizen, online and in print, will help us serve the community better this year. Already, we are producing videos and smart content to help current community members and newcomers.
A few more items of note.
If you wear Army green, a new Army Combat Fitness Test is underway.  Equipment sets to support the ACFT are arriving in our community. It will soon be ready for training and testing, with little impact on our community fitness spaces.
Since July 18, we have witnessed almost three dozen people become naturalized citizens at Panzer Kaserne. With changes at the consulate in Frankfurt, more service members and their families will become Americans here in Stuttgart. The garrison staff will continue this effort in 2020, assisting community members with the naturalization process.
Finally, we are looking for people to work at Child and Youth Services. On Jan. 14, we will hold our next hiring fair. Because of our long childcare waiting list, we can over hire our authorized number of CYS workers.  In November's hiring fair, we hired seven qualified applicants on the spot. We now are looking to fill 22 CYS program assistant positions and 15 other vacancies.
As we move into 2020, we continue to be ready and engaged, build a resilient team of teams and remain results focused. Our dedicated garrison team will make every effort to inspire our motto, "I'm glad I live here."