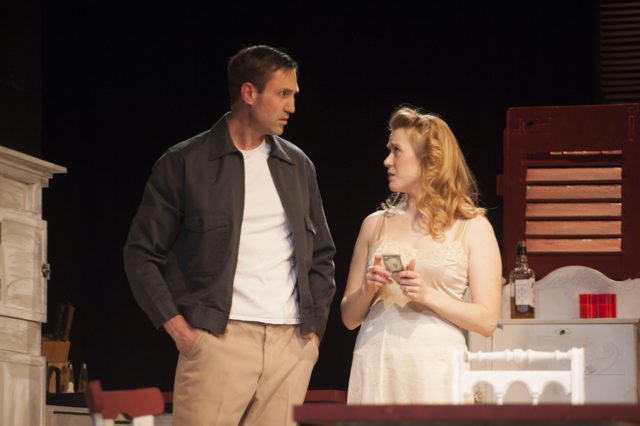 By Larry Reilly
Photos by Kevin Abel
USAG Stuttgart Public Affairs Office
The thespians at the Stuttgart Theatre Center are showcasing another gem of a performance with "A Streetcar Named Desire," which opened Feb 17 and will run through March 5.
This 1947 Pulitzer Prize winning play by Thomas "Tennessee" Williams centers on Blanche Dubois, played by Tracy Coffey, an aristocratic Southern Belle from Aurol, Miss., who visits her sister Stella Kowalski, played by Emily Sherwood, and her brawny and somewhat uncultured husband Stanley Kowalski, played by Nathan Dehnke, who live in the French Quarter of New Orleans.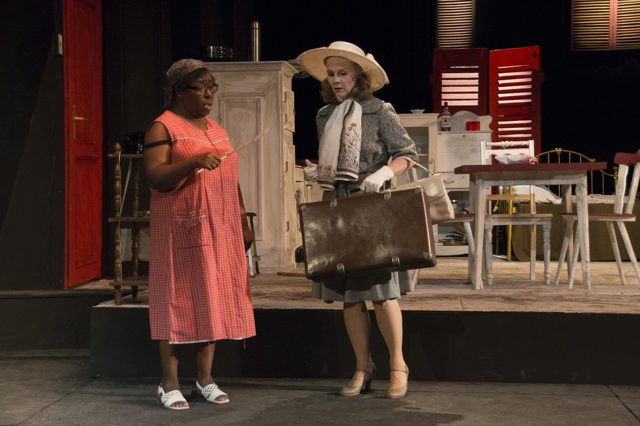 Blanche is shocked to discover that Stella lives in a tiny two-room apartment with little or no accommodations for her, but her shock is mild compared to that of Stanley's when he finds out that Stella's sister has made an unannounced visit and has brought with her more baggage than the suitcases she carried in.
Stanley instantly takes a disliking to Blanche, especially after she admits to Stella that she lost the family property "Belle Reve" to creditors and has nothing but a pile of papers to show for it. Stanley believes Blanche is pulling a fast one on Stella and does some looking into Blanche's past, which upsets Stella who is sympathetic toward her sister's plight. Tension between the three heightens when Stella's pregnancy is revealed. Stanley becomes very antagonistic toward Blanche when he realizes she is the one guzzling down all his whiskey and that she has started dating Harold Mitchell, one of Stanley's poker buddies, played by Edward Gaietto.
The talented supporting cast does a great job of keeping the flow of the core cast's performance moving along and the audience in the moment; however, it is Blanche's performance that is the highlight of the show.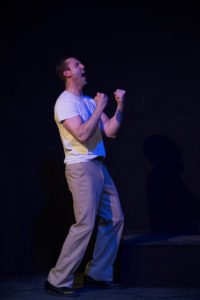 It's evident that Blanche is a talented manipulator and has an insane way with words. Tracy Coffey's execution of the script in this role is flawless as she skillfully draws the audience into Blanche's world of deceit and past traumatic events not only with her words, but with her facial and body expressions. Blanche creates an "awe" moment for the audience as she verbally confesses to Howard how her past experiences have created an internal insanity that often bleeds into her present reality, which for the audience explains some interesting moments in the play.
Blanche's continuing verbal scuffle with Stanley and her growing romance with Howard starts to take an emotional toll on her ability to decipher past from present and real from fantasy; and separate incidents with Harold and Stanley bring her to the brink of……..
If you are looking for a refreshing form of entertainment, this live performance is a must see. The play addresses domestic issues that continue to face our society to this day, yet performed from society's view point 70 years ago.
The level of confidence in the cast and in the production was enough for the Stuttgart Theatre Entertainment Branch to submit it in the 2017 IMCOM Directorate Europe Toppers Award. Whether the play takes top billing remains to be seen; however, I predict there will be individual performance awards garnered by the outstanding cast of this play.
For more information on the play call civ. 0711-729-3055 or reserve a seat visit the theatre's website at: stuttgart.armymwr.com.