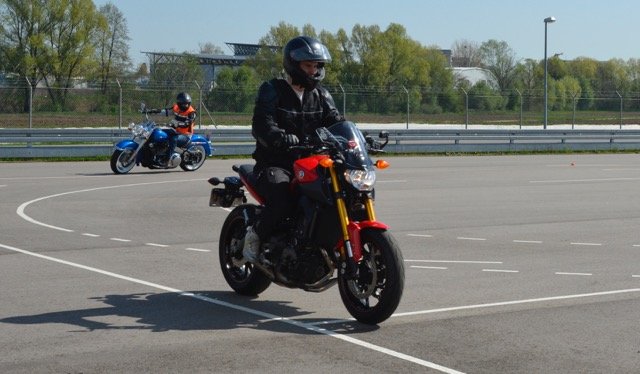 Story and photos by John Reese
USAG Stuttgart Public Affairs
A lot of thought and practice goes into safely riding a motorcycle. There's much more to commuting on two or three wheels than simply jumping into the saddle and turning the key; there's personal responsibility, military regulations, German (and other European) laws and constant situational awareness.
"You have the option of using your own motorcycle or ours," said Stefan "Gogo" Bockisch, who has traveled all over Germany for the past decade teaching motorcycle safety to U.S. military ID cardholders. He indicated a 250 cc "Ninja" with a few scuff marks from previous classes. "You can use our fuel and our tires."
May is designated motorcycle safety month, and some riders, including one who rode from Grafenwoehr, got a head start by participating in a Motorcycle Safety Foundation Basic Rider Course at Stuttgart Army Airfield, April 18.
Bockisch, a MSF rider coach, kept the class interesting with a mix of humor and facts about riding in Germany, and the differences between laws in other European Union countries.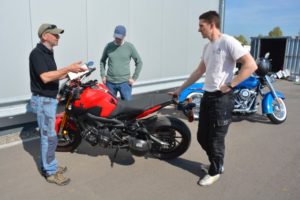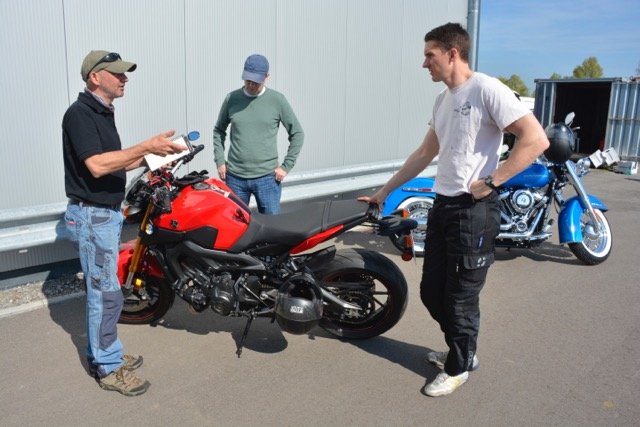 "This keeps the class from being boring. Interesting facts make the it more involved," Bockisch said.
The BRC, sponsored for the Stuttgart military community by the Installation Management Command – Europe, is a mandated class necessary to get a Class 1 designation on a U.S. Forces in Germany license. A minimum of five and up to a dozen students may sign up for a class, but Bockisch encourages riders to check for last-minute cancellations. In the April 18 BRC, a senior noncommissioned officer was sent home after Bockisch found he had no temporary motorcycle license issued by the garrison or, in the case of riders who are taking the course again to maintain their license, a Class 1designation.
"You must have an endorsement on your (U.S. Forces) license or a temporary license to take the course," Bockisch said. "Maybe five percent of students are sent home due to not having the right paperwork."
Having the endorsement basically requires that service members arrive in Germany with a motorcycle endorsement already on their stateside license, otherwise it becomes a "Catch-22" situation; you need to take the MSF course to ride in Europe, but you can't attend the course if you don't have a motorcycle license. Getting a U.S. Forces license requires one already has a regular state license to drive – there is no "driver's ed."
The Stuttgart class begins in a repurposed shipping container, which was surprisingly cool despite the beating sun, before moving to a course of painted lines and slalom cones arranged on a smooth, flat, blacktop surface. After a TCLOCS (tires, controls, lights, oil, chassis and stands) inspection, the class was put through its paces. Students had to demonstrate maneuvers such as tight turns within a painted box, sudden braking and more.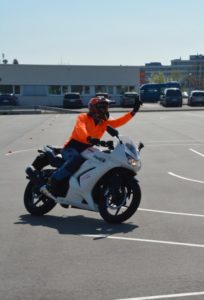 "I've been riding for about five years," said Air Force Lt. Col. Bryon Martin, U.S. European Command. "There's always a lot to learn."
His classmate had a lifetime of riding experience.
"I've been riding off-road for 20 years," said 1st Lt. Robert Hasslocher, Headquarters, NATO, who rode from Grafenwoehr to participate in the Stuttgart BRC. "I've been on street bikes for about three years."
After successfully demonstrating their skills, the class returned to the conex for the final hurdle, a written exam. Students who passed got a signature from Bockisch to get the coveted Class 1 endorsement.
Upcoming MSF classes
Basic Rider Course – July 26
Intermediate Driver's Training (classroom block of instruction) – Sept. 6
Experienced Rider Course – June 21, July 12, Aug. 2 and Sept. 27
Civilians or family members who need training should contract rider mentor coaches Sgt. 1st Class Aaron Silberman at 431-2198 or Mr. Gordon MacMillan at 430-2226. If you have problem trying to register online or for non-Army enrollment, contact the garrison Safety Office at 430-5472. IMCOM MSF courses are for service members only. Personnel must register online via (CAC-enabled) at the U.S. Army Traffic Safety Training Program Registration System at https://imc.army.mil/airs/Home.aspx.
Time for reflection
When in doubt about protective, reflective riding gear, look to Army Europe Regulation 190-1, 5.6 and DODI 6055.04, which defines protective clothing. Service members (and civilians and family members riding on post) in the Stuttgart military community will wear a vest, jacket, upper garments, or motorcycle clothing that incorporates fluorescent and highly reflective material when operating or riding as a passenger on a motorcycle, moped, motorbike, ATV, or similar vehicle at all times on or off post. Military uniforms, including physical fitness wear such as reflective vests or belts, won't do.
(Editor's note: For Motorcycle Safety Month, the "Good Ride Salutes USAG Stuttgart" motorcycle rally takes place May 20. The fun and camaraderie of the open highway begins at 8:30 a.m. on the Panzer Kaserne parade field with check-in, followed by coffee, a blessing of the bikes, a poker run, entertainment and more. Register here or visit the garrison MWR page.)