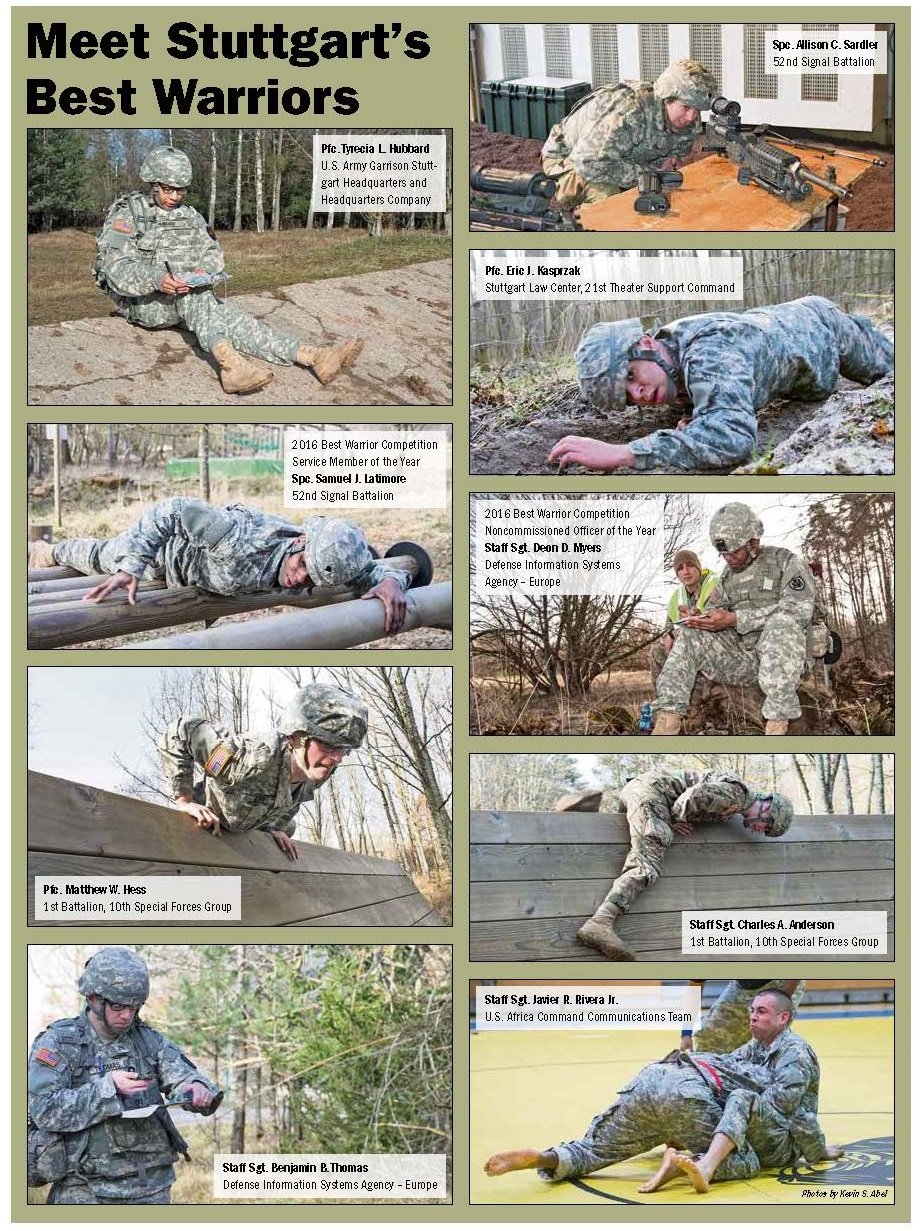 Story and photos by Kevin S. Abel
From a board appearance to battle drills, 10 Stuttgart Soldiers competed for the first time during Stuttgart's Best Warrior Competition here, Feb. 21-24 to test their physical and mental readiness.
In the early morning hours on day one of the competition, the Soldiers' physical readiness was tested with the standard Army Physical Fitness Test, followed by professional appearance in front of a Sergeants Major's Board. The board challenged the competitors Army knowledge aptitude, while the following three days tested their mental toughness and physical strength.
"Soldiers throughout this competition showed that they live the Warrior Ethos," said U.S. Army Garrison Stuttgart Command Sgt. Maj. Lynice D. Thorpe, adding "I'm really proud of the way they showed their camaraderie and esprit de corps."
The four-day competition started Feb. 21, with 10 competitors completing in:
APFT
12-mile ruck march
Obstacle course
Situational Training Exercise (STX), with seven stations, warrior tasks, and battle drills
Zero and weapon qualification on the M4 carbine, and M9 pistol
Board appearance
Day and night land navigation
Modern Army Combatives (MAC)
Mystery event which was a Written Essay
The sun shined down on the competitors for day two as they conducted MAC, day/night land navigation and a 10-event obstacle course. One Soldier had to drop out of the competition after the combatives portion due to an injury sustained in his match, leaving a total of nine.
Competitors weren't so lucky with the weather on day three. Mother Nature threw everything at them from freezing rain during the zero and qualification portion, to snow as they worked through the STX lanes and stress shoot.
As Soldiers must be versed in a variety of warrior tasks outside of their primary military occupational skill, competitors were expected to be proficient in more than 40 Warrior Tasks and Battle Drills, but didn't know which seven they would face until they entered the STX lanes.
In addition to the difficulty levels of each individual event and dramatic shifts in weather, Soldiers needed to battle fatigue during the competition as its structure allowed for minimal rest time.
"It took a lot of heart, dedication, mental and physical toughness to get through it all," said Staff Sgt. Javier Rivera Jr., who represented United States Africa Command and 52nd Signal Battalion. "As you get further into the competition, you might feel the need to quit or just back off a little to reserve your energy, but you don't, you continue to push through and stay focused."
For some Soldiers, the forth day's 12-mile timed road march proved the most difficult task. Soldiers were required to carry a 35-pound rucksack, wear their Improved Outer Tactical Vest and finish the march in less than three hours to receive points toward the competition.
"The ruck march was the toughest for me," said Spc. Alison Sardler, 52nd Signal Battalion. "The added weight of IOTV was a surprise I hadn't expected or planned on, since normally you don't wear your IOTV during a ruck march, only during movements, which are usually set to a slower pace. It slowed me down."
This would be the competitors' final opportunity to rack up points and pull away with the title Stuttgart's Best Warrior.
All competitors had their challenges preparing for the competition and showed their Army pride throughout. "I am a single mother, and it took a lot to prepare for this competition with my daughter, but I pushed myself and her with every spare moment we could find," said Sardler, adding, "It was a point of pride for me as a female Soldier to not only compete, but be competitive."
Best Warrior meant something different to all the competitors, for some it was to prove they were among the best, for others it was a chance to refine Soldier skills and become a better Soldier. For Staff Sgt. Deon D. Myers, it meant setting himself apart from his peers and being an example for Soldiers to follow. "I have been doing shift work for the past two years, so being able to compete against the best who stepped up would show me where I stand with them," said Meyers. "Hats off to the entire group that competed."
The competition identified the "Best Warrior" in two categories, "Service Member of the Year" for E-1 to E-4, and "Noncommissioned Officer of the Year" for E-5 to E-7. Specialist Samuel Latimore, assigned to the 52nd Signal Battalion was named Stuttgart's Best Warrior Service member of the Year and Staff Sgt. Deon D. Myers, assigned to Defense Information Systems Agency-Europe, was awarded Best Warrior Noncommissioned Officer.
"What made this event successful was the collaboration and support from units, the community and civilian volunteers along with the ability to use subject matter experts" said Thorpe. Acknowledging her appreciation to all those who supported the first Stuttgart Best Warrior Competition.
Latimore and Myers will represent Stuttgart at the Installation Management Command-Europe regional competition, March 20-23 in Stuttgart.
To view more Stuttgart Best Warrior photos, click here.