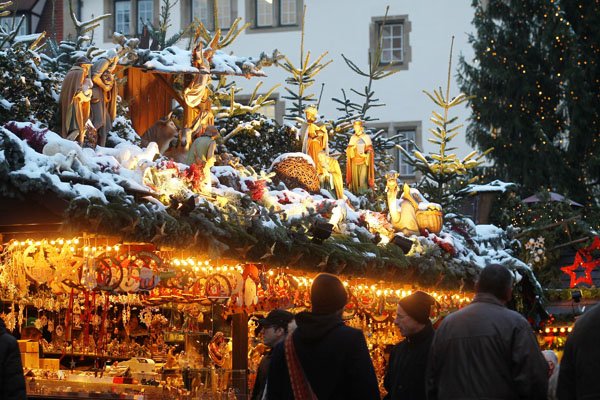 By Michael Pons
Antiterrorism Officer
USAG Stuttgart
Although there is a security presence at most public access venues such as the Christmas markets in the various cities across Europe, these are considered lucrative targets for potential terrorist attacks given the access to a large multitude of persons gathering in one location.
Planning to attend these gatherings should include an emergency action plan for the entire family. Exercising individual protective measures is key, such as wearing clothing that allows you to blend in to the community, traveling in groups of two or more. These are always good measures to take. Know your closest safe havens (police/fire stations, hospitals) or buildings that would provide the ability to get out of a dangerous situation in the open. Have emergency contact numbers pre-programmed to mobile communications devices (to include the local Military Police desk number), ensure your personal electronic devices are charged enough during your outings; consider bringing a power bank if you're planning to be outside for a long period of time.
Research the local area security environment prior to your travels outside of the Stuttgart or Germany. First and foremost, review the Foreign Clearance Guide (CAC enabled) for official or unofficial travel requirements. The State Department publishes travel advisories on its website. Also, if traveling outside of Germany, it is of the upmost importance to enroll in the State Department's Smart Traveler Enrollment Program, and record your travels. This allows the State Department to push notifications and provide relevant information on your travel destinations if a situation arises.
Report suspicious activity to law enforcement authorities (dial 110 from a mobile phone) as soon as spotted; this allows them to respond at earliest opportunity and maximizes their ability to engage the person(s) in question. Also, iWatch/iSALUTE are reporting tools in the event a voice call is not possible. Also, USAG Stuttgart has an app, in which the USAREUR iReport app and Iwatch are immediately available, download the app.
Enjoy the holiday festivities to the fullest, stay safe and stay vigilant, and a Merry Christmas and Happy New Year to all!
(Editor's note: The inspiration for this article came from Erinn Burgess, USAG Rheinland-Pfalz. Read her original article here.)