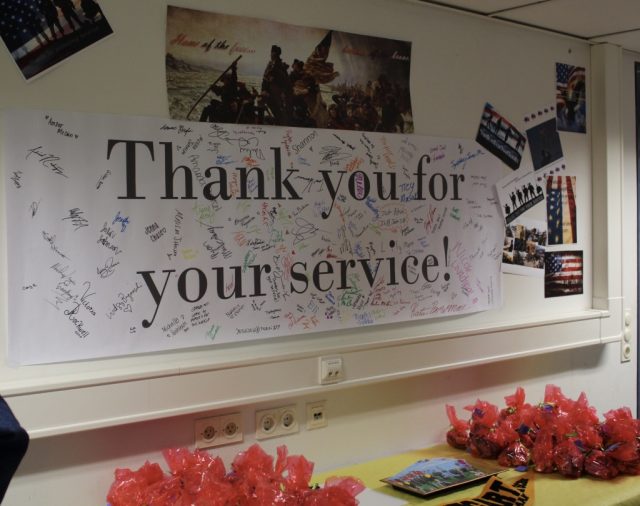 Story by Shana La Lomia Blankenship, Stuttgart High School and the USAG Stuttgart Public Affairs Office
Stuttgart High School art students honored single and unaccompanied soldiers by adopting the Military Police Dormitory to show gratitude for service, May 16.
In addition to Stuttgart High School staff and students, U.S. Army Garrison staff, the Stuttgart Community Spouses Club's Barracks Cheer Committee, community volunteers and military personnel gathered to show their support for the goodwill campaign to decorate the MP barracks.
Under the oversight of the Stuttgart High School Media and Graphic Arts Department teacher, Shana Blankenship, assisted by teachers Linda Santiago, Chef Charleen Huebner, and Military and Family Life Counselor, Renia Enico, students Sophie Palladino, Kiara Jackson, Michelle Quinteros, Jeremy Nix, Gabe Stefanko, Diana Davis,  Autumn Mogavero  Bridgette Carter, Oriana Suarez,  Adriel Rodriguez,  Marlee Kadence, Bridgette Carter, and Suzanna Ortiz, set up during the early morning hours to show their appreciation and gratitude for service members using their artwork to make them feel more like home.
Hours were spent by students cooking, creating and constructing gift items. A display of art placed upon the walls was designed by students of SHS's media labs. The SHS Student to Student (S2S) group created and designed posters that would accompany the display of art by hand.
Other SHS groups contributed time, donations, and labor to create a "hospitality table" so that single service members could be welcomed with gifts when they returned to their dorms.
Many groups contributed to make the display, and warm reception that was well received. Lt. Black, a resident of the adopted MP Dorm said, "it brings a sense of home and place to us all, we are grateful to be a part of this community."
"The students support was overwhelming as they felt the need to pay forward their gratefulness for the single and unaccompanied soldiers' service to our country. Stuttgart High School hopes to continue to provide a show of support in our adopted MP dorm four times a year,: said Blankenship.
The Stuttgart Barracks Cheer Committee, part of Stuttgart Community Spouses Club, was initiated in the fall of 2015 to help increase the community's support for the single and unaccompanied military personnel who reside in the Stuttgart military community.
To view the photo album, click here.
Special thanks goes to:
SHS Chef Charleen Huebner and Culinary Art students for homemade cookies, creative and logistical support
Monika Jurgens and S2S for candy bags and posters
Linda Santiago and students : postcard artwork and crepe paper flowers logistical support
SHS Senior Class: helium balloons
Melody Green and the SHS girls basketball team: support and donations
Mr. Preuss S2S and MUN: creative support
Shana Blankenship and Zeitgeist Yearbook:  Tee shirts and Graphic Arts: Posters
Todd Taylor: Large format Printing
Todd Church Art Department: Tee shirt printing and custom design
Brandi Johanson SHS Drama Dept.: Fresh flowers
Autumn Magavero: FBLA: Logistical support.
Janice Venerable SHS Psychologist and Math Teacher Bill Christy: Financial support
Teachers:Kim Lasseter and Blake Little, logistical support
Principal Danny Robinson and Virginia Kozack/Kelli Jones: Logistical and instructional support
Jen Cunningham Stuttgart Community Spouses Club Program Chair, Logistical Support