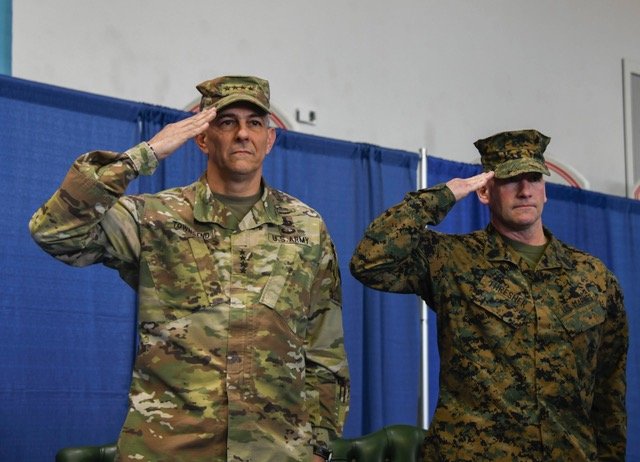 Staff Sgt. Flor Gonzalez 
U.S. Africa Command
Marine Corps Sgt. Maj. Richard D. Thresher assumed duties as the Command Senior Enlisted Leader, U.S. Africa Command, during an assumption of responsibility ceremony, Feb. 28.
Gen. Stephen Townsend, commander, AFRICOM, presided over the ceremony. Townsend spoke about the importance of the enlisted corps.
"The enlisted corps is the backbone of our force, and in my view, it is the backbone of any credible armed force," Townsend said.
The command senior enlisted advisor has an important responsibility to provide feedback on the state of the enlisted force, Townsend said.
"I want him to be the senior enlisted advisor to me, my candid advisor," he said. "Every commander should have people on their staff that can come in, close the door, and say 'hey boss, we need to have some straight talk.' I charged him with that responsibility," Townsend said.
Thresher thanked those that attended and expressed his excitement to be a part of AFRICOM.
"We are all in the same team, yes, I am a Marine, but now I'm AFRICOM," Thresher said, "So we are all on the same team."
Thresher, who is the first to hold the CSEL position, enlisted in the Marine Corps in 1990 as an artilleryman. He served at various levels in the Marine Corps and holds a bachelor's and master's degree from American Military University, plus a graduate-level certificate from East Carolina University.
"We are in Germany with a bunch of seasoned professionals that are taking a serious look onto the continent in support of the United States and in support of AFRICOM," Thresher said.