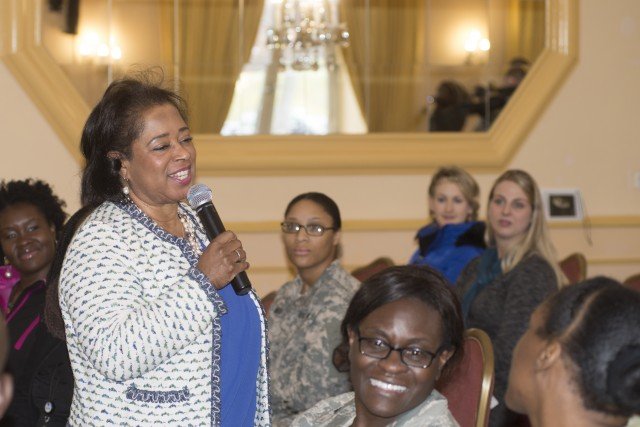 By USAG Stuttgart Public Affairs Office
Juandalynn R. Abernathy, daughter of the co-founder of the Civil Rights Movement, Reverend Dr. Ralph D. Abernathy, visited U.S. Army Garrison Stuttgart to speak on the legacy of Dr. Martin Luther King Jr. hosted by USAG Stuttgart's Equal Opportunity office, in conjunction with community Equal Opportunity Leaders, Jan. 12 at the Swabian Special Event Center on Patch Barracks.
The event theme was "Remember! Celebrate! Act! A Day On, Not A Day Off!!" celebrating the life and legacy of King, who brought hope and healing to America. People commemorate the timeless values King taught through his example — the values of courage, truth, justice, compassion, dignity, humility and service that so radiantly defined his character and empowered his leadership. The holiday, which is nationally celebrated this year, Jan. 18, 2016, commemorates the universal, unconditional love, forgiveness and nonviolence that empowered his revolutionary spirit.
Abernathy, who was also a close friend of King, shared her unique perspective on growing up during the Civil Rights Movement. According to Abernathy, the day not only honors King, but all who worked and sacrificed for freedom and equality.
She was barely a year old when her father and King organized the 1955-56 Montgomery Bus Boycott in response to the arrest of Rosa Parks for her refusal to give up her seat in the front of a city bus.
King was assassinated on April 4, 1968, in Memphis, Tennessee.
Abernathy stressed the importance the events and history of the Civil Rights Movement that should never be forgotten. The changes, which began in America, led to change across the globe.
Abernathy has resided in Germany for 30 years, about 45 minutes from Stuttgart. She is an accomplished soprano opera, concert and African-American spirituals singer, who in closing, moved the audience in attendance by singing "Amazing Grace."
View the event photos, click here.