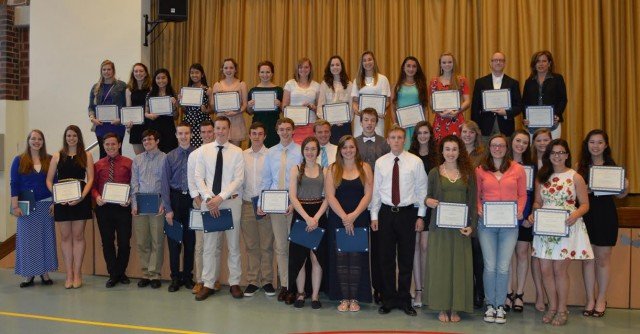 The Stuttgart Community Spouses' Club presented $107,000 in scholarships to 47 high school, continuing education and spouse recipients at the annual scholarship awards ceremony on May 17 in the Patch High School Forum. The awards included one $10,000, one $7,500 and two $4,000 scholarships to deserving high school students. Rear Adm. Christenson was the guest speaker.
Additionally in 2014-2015 the SCSC awarded $243,000 in welfare grants to military, athletic, recreational and charitable organizations in the U.S. Army Garrison Stuttgart community. Scholarships and welfare grants are made possible through funding from the SCSC Patch Thrift Shop and Spring Bazaar.
The 2015-2016 welfare application is now available on the Stuttgart Community Spouses' Club-SCSC Facebook page, at www.stuttgartspousesclub.org/welfare.html or by emailing scsc.welfare@gmail.com.
For additional information about the Stuttgart Community Spouses' Club visit their information table from 10 a.m. to 2 p.m. at the CARE Fair on Saturday, Aug. 22 inside the Panzer Exchange.