By Jessica Ahles
Special to The Citizen
Stuttgart is a city with a great reputation: high-tech and innovative, environmentally friendly, and economically strong. But if Stuttgart is known for one thing — it's cars. The capital of Baden-Württemberg is considered to be the leading location of the automotive industry as it's the hometown of two international premier car manufactures: Mercedes-Benz and Porsche. So while you may be pounding the steering wheel standing in bumper-to-bumper traffic or caught by one of those many sly radar cameras, take solace knowing that when a city holds over 125 years of luxury sports car innovations, premium driving routes can't be too far behind.
Whether your motivation is to get out into nature, drive through history, or experience the gourmet side of the South, we've complied a list of note-worthy car trails you can make in a day, or take your time for a weekend getaway. However far you've set your sights, cruise with us and you'll see a little of everything Baden-Württemberg has to offer, making our scenic corner of Germany a road-tripper's dream.
Black Forest High Road
Duration: 60 kilometers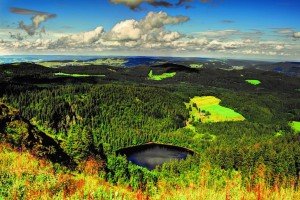 There are few landscapes in Germany more iconic than the Black Forest, and when you're for dreaming for that fairytale drive, the pros agree that the "Schwarzwaldhochstrasse" is one for the books. Considered the oldest and most scenic road through the Black Forest, the trip will carve along the ridge of the Baden-Baden mountain range and end the charming town of Freudenstadt, known for its marketplace, which is considered the largest in the country. The route runs conveniently along highway B500, reaching over 1000 meters in elevation, and entices visitors to stop and take a break as it offers an captivating picture of alpine-looking gorges, the Rhine valley and the Vosges Mountains. Pack your lunch and enjoy a picnic or indulge in one of the many restaurants serving first-class French cuisine.
Points of interest: Hornisgrinde (elev. 1164 m and the highest mountain in the northern Black Forest), Mummelsee glacial lake, the Schliffkopf and Ruhestein nature reserves, and the Schwarzenbachtalsperre.
To plan your trip or for more information, visit: www.schwarzwaldhochstrasse.de.
Hohenzollern Castle Route
Duration: 300 kilometers
The family name Hohenzollern can trace its roots back to the 11th century where the House of Hohenzollern ruled the area once known as Prussia, as well as Germany and Romania until World War I when the German monarchy was brought to an end. The Hohenzollern Route follows the region that the family dynasty once ruled in a picturesque loop of southern Baden-Württemberg. This route is rich with impressive sights of the Swabian Alb and architectural masterpieces including the moated castle, Schloss Sigmaringen, and the iconic Hohenzollern Castle – attracting over 300,000 visitors annually. If you'd like a bit of variety with your Hohenzollern history, take a walk through Hechingen, the hometown of Albert Einstein's wife, Elsa Einstein, check out the Brewery Museum in Trochtelfingen, or maybe go investigate some of the caves near Meßstetten. Either way, this route will be one to remember.
Points of interest: Schloss Sigmaringen, Prince Art Museum, Burg Hohenzollern, Roman Outdoor Museum in Hechingen, St. Erhard's Church, Gammertingen Burg Baldenstein ruins, Hettingen water tower, Meßkirch Classic Car Museum, Beuron Benedictine Abbey, Castle Falkenstein, Schwenningen's Straw Park.
To plan your trip or for more information, visit: www.ferienland-hohenzollern.de.
Baden Wine Route
Duration: 200 kilometers
If settling down with a glass of Merlot is more your speed, a trip through Germany's most beautiful wine country will light up your palate. The Baden wine region consists of over 100 cooperatives within 250 miles. Stretching north to the border of Franken and south to Lake Constance, Baden is considered Germany's longest wine region. The classic route connects the major wine districts, leading from Baden-Baden, traveling in a loop around Kaiserstuhl and Tuniberg, and ending at Weil am Rhein. Along the way, motorists will find themselves winding through rolling hills and breathtaking valleys, catching expansive views of vineyards throughout the area, as well as cruising through secluded side streets of quiet villages and wineries. Though Baden has many grape varieties and soil types, you'll find nearly half of the vineyards are planted with Pinot varieties, from dry to slightly sweet. With ample public wine tastings, vineyard walks, and Michelin-starred restaurants, this route is considered to be the gourmet corner of Germany. And don't worry, if you find you've indulged a little too much, the road is also known for its pick of friendly innkeepers too.
Points of interest: Old town of Gengenbach, Corkscrew Museum Kaiserstuhl Vogtsburg-Burkheim, Kaiserstühler Weinbaumuseum in Vogtsburg-Achkarren, Münster in Breisach and Freiburg, Labels Museum in Müllheim-Zunzingen, Vitra Design Museum in Weil.
To plan your trip or for more information, visit: www.badische-weinstrasse.de.
Castle Road
Duration: 180 kilometers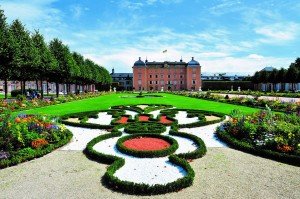 As its name suggests, this road will whisk you away into the pages of history, discovering hidden mountainside ruins and palaces, romantic cities, and even Roman bathhouses. Since its original scenic route dedication in 1951, the road has been extended from Mannheim to Nuremberg, further east to Pilsen and Prague, and spans more than 1000 kilometers. Although impossible to explore the entire route in one day, a shorter route from Mannheim to Rothenburg ob der Tauber will pack a punch for any history buff or castle enthusiast. Ride the funicular up to 13th century Heidelberg Castle for the apothecary museum and an enchanting overlook of old town Heidelberg, wander through the exotic gardens after a stop at the brewery of Schwetzingen Castle, or cross the stone bridge to Castle Guttenberg for a live falcon show and medieval performance. More than 30 castles and notable stopping points line the way, making it a truly customizable trip tailored to suit anyone's interests.
Points of interest: Schwetzingen Castle gardens and brewery, Heidelberg Castle complex, the old village of Neckarsteinach, Ritterschloss Knight's Castle and restaurant, Guttenberg Castle Falcon Center, the medieval spa of Bad Wimpfen.
To plan your trip or for more information, visit: www.burgenstrasse.de.
Bertha Benz Memorial Route
Duration: 194 kilometers
Last but certainly not least is the Bertha Benz Memorial Route. If you're a car enthusiast, there is not a more fitting roadway than this one. Wife of Karl Benz — founder of German automaker Mercedes Benz — this route was named after her revolutionary long distance road trip in 1888 when she took her two sons and her husband's Model 3 prototype to travel from Mannheim to Pforzheim to visit her mother. The 194-kilometer course was named the world's first long distance road trip and was approved in 2008 as an official scenic route. As one of the most prominent monuments of the German industrial legacy, the car trail follows the same route Bertha Benz originally used, both with a separate northbound and a southbound route due to her unease of the mountain terrain she drove on the way back. On the road, you'll catch a glimpse of history at sites such as Ladenburg, where Karl Benz lived from 1906 until he passed in 1929 as well as the world's first petrol station in Wiesloch. But aside from its historic importance, it also leads through the countryside of Baden, one of the most charming regions in Germany.
Points of interest: Mannheim Palace, Luisenpark of Mannheim, Ladenburg Auto Museum, House of the Benz Family, The World's First Petrol Station in Wiesloch (Town Pharmacy), Hockenheim Museum of Motorsports.
To plan your trip or for more information, visit: www.bertha-benz.de.