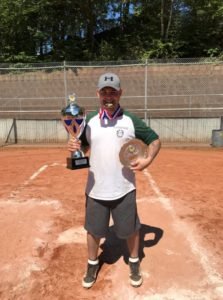 The 1st Battalion, 10th Special Forces Group (Airborne) represented U.S. Army Garrison Stuttgart at the Installation Management Command (IMCOM) Europe Unit Level Softball Championships winning the first place trophy and also taking home the MVP category, Aug. 4-6 in Kaiserlsautern, Germany.
The 554th Military Police Company also placed fourth in the championships.
Full results:
1st: 1-10th SFG (Special Forces Group), USAG Stuttgart
2nd: D Co 54th BEB (Engineer BN, 173rd Airborne Brigade), USAG Italy, Vicenza
3rd: 5th QM   (Quartermasters), USAG Rheinland-Pfalz, Kaiserslautern
4th: 554th MP Co, USAG Stuttgart
MVP: Sgt. Codi Shoemaker, 1-10th SFG, USAG Stuttgart
View more action photos on IMCOM Europe's Flickr page.