By John Reese
USAG Stuttgart Public Affairs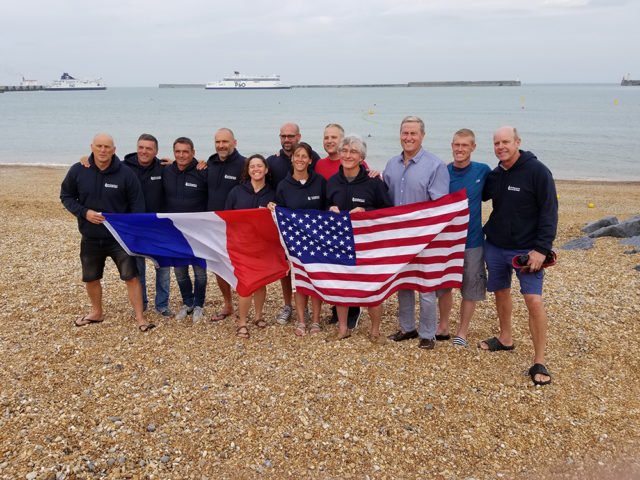 American forces began arriving in Europe in 1918. By the time the armistice was signed later that year to conclude "the war to end all wars," approximately four million U.S. service members had served on the continent.
To commemorate the 100th anniversary of U.S. forces in Europe, 12 relay swimmers braved dark, bone-chilling waters overnight, between storms, to cross the English Channel from Samphire Hoe, England to Sangatte, France, June 21-22.
Six of the swimmers were from the U.S. and six were from France. Of the American team, five of the swimmers came from Ohio. Two of the dozen swimmers were women, one French and the other American living and working in the Stuttgart community.
"The reason for the swim was to commemorate our relationship with our allies," said Dr. Michelle Sanders.
The sports medicine and orthopedic physical therapist for the Kelley and Patch Barracks health clinics swam a relay with the 11 other swimmers and had the distinction of completing the final stretch and to walk ashore in France.
A former Peace Corps volunteer (Togo, West Africa, 1994-1996), Sanders moved with her husband, retired Army Lt. Col. John G. Sanders during his 25 years as a Medical Service Corps officer (he currently serves as the executive director for the U.S. Africa Command Surgeon Office). Arrived in 2007 in Heidelberg, then moved to Stuttgart in 2012. She is a triathlete and US Masters swimming coach in the Stuttgart military community. When she's not healing injured service members and their families, swimming or riding her bike 45km round-trip to work, Sanders coaches the youth of the highly successful Stuttgart Piranhas Swim Team. Her son Jordan, an 8th grader at Patch Middle School, and her daughter Mia, a 10th grader at Stuttgart High School, are both Piranhas.
Sanders was invited to participate in the team swim by John Boyd, a fellow athlete at NATO. Boyd had made the channel swim before and was going to do so again, but had to cancel due to an injury.  He asked if he could give John Kulewicz, a mutual friend and channel relay team captain, her name to take his place. Kulewicz had been swimming with Sanders for three years and she was immediately onboard.
"We did the Amsterdam City Swim in the canals," she said. "Nasty water, fun event; we swam for ALS (amyotrophic lateral sclerosis, also known as Lou Gehrig's disease).
In addition to Amsterdam, Sanders and Kulewicz had done the 5K Defi de Monte Cristo (of the Count of Monte Cristo fame) at Marseilles.
Swimming the English Channel is similar to climbing Mount Everest in that one cannot simply jump in and tread water. Applications have to be made a year in advance for a one-week window. There are eight boats permitted to escort swimmers and teams across the channel.
Before she arrived at the white cliffs of Dover, Sanders trained hard to swim the channel. An avid cyclist, she rode her bike to work one or two times per week in addition to strength training three days a week at the gym. And of course, she swam. Sanders did some of her cold water training near in the Edersee near Marburg, Germany.
"The coldest swim I did during this training was 10 C (50 F), and that was really cold," she said.
Since the other American members of her team were in Ohio, Sanders trained mostly by herself.
"Cold water training is similar to altitude training; you don't do it for long periods of time. It's a short swim," she explained. "In cold water training, swimmers stay in the water for 30 minutes maximum."
She swam three days a week, 9-12 km per week. She also trained with other cold water swimmers at a special camp in Majorca, Spain. The training on Majorca was done in even colder waters.
"That was my biggest fear: the cold. The training temps in Majorca were 12 to 15 C (53 – 59 F) she said. "I met a lot of veteran Channel swimmers at that point who gave me a lot of information and advice on how to do it."
Sanders met up with the other French and American swimmers at the beginning point in Samphire Hoe, a beach park made up from 4.9 million cubic meters of chalk marl excavated for the "Chunnel", the tunnel under the channel between England and France. The 12 swimmers were broken into two groups. However, after the team had waited a year for their turn, a storm threatened to cancel the weeklong window of opportunity.
Fortunately, the weather broke long enough for the team to begin. Sanders swam her three one-hour legs in water about 14-16 C, with temps dipping overnight in the middle of the channel. One of the rules about swimming the channel is that swimmers cannot wear fins or wetsuits; just swimsuits, caps and goggles. After each stint, team members immediately changed into warm, dry clothes until their next turn in the water. Even after changing, Sanders said she shivered for about an hour.
"I got out cold," she said. "Really cold."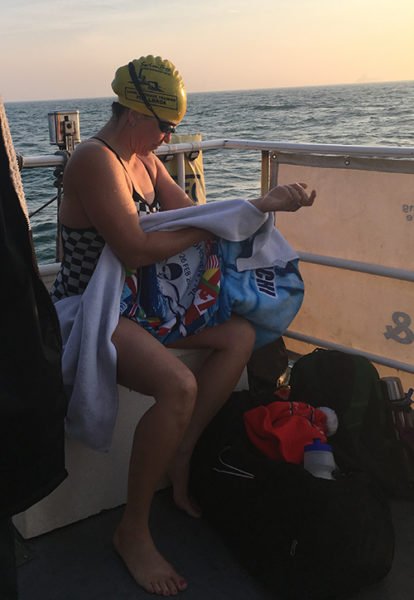 By the time she swam ashore after sunrise in France, the water temperature was up to 19 C (66 F), which felt "almost too hot." It was
markedly warmer than the rest of the crossing.
A French fisherman was shocked when Sanders and French swimmer Eve Gaillard walked ashore, 14 hours and 20 minutes after leaving England, at Sangatte Beach near Pas-de-Calais, where he was surf fishing.
"Where did you come from?" he asked, surprised.
"England!"
"How did you get here?" he pressed.
"We swam," they replied.
Sanders' son Jordan accompanied her on the adventure and swam a 30-minute recovery swim with her in Dover Harbor, a popular training point for channel swimmers.
The White Horse Inn in Dover recognizes those who swam the English Channel by having them sign a guest book for completing a relay crossing; those who swim the entire distance solo get the privilege of signing their names on the walls.
"People asked on the day we finished the swim (if I would swim the channel solo), and I said no way!" Sanders said. "Part of my training was to do a six-hour swim, and I passed it without any difficulty. So, I have 30 months to make that decision, and at this point, I'm on the fence.
"It was tough, it was grueling, it was cold and miserable … but now, I think I could probably do that," she said.