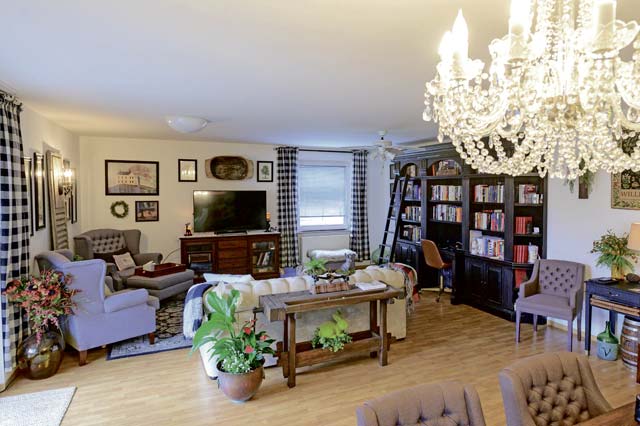 USAG Stuttgart Housing Office
Recognizing where you will be living during your tour at USAG Stuttgart is important, we want to share a little about what you can expect.
Approximately 30 percent of the USAG Stuttgart community live in the 1,300+ on-base Family Housing units, with the remaining 70 percent residing on the economy.
On-Post Family Housing throughout Stuttgart, with the exception of designated General Flag Officer Quarters, are stairwell apartments ranging from two to five bedrooms. They are located on Panzer Kaserne, Kelley, Robinson, and Patch Barracks. Most five bedroom units are located on Kelley Barracks.
In-home amenities for on-base Family Housing include a laundry room with U.S. appliances for each unit, individual storage space, and 110 and 220-volt outlets for both U.S. and German appliances.
Community services include fitness centers, a club for social events, elementary, middle and high schools, libraries, and child and youth services programs.
Upon receipt of permanent change of station orders, Military Members and Department of Defense (DoD) Civilians should provide orders and the application for assignment to housing (DD Form 1746) to the USAG Stuttgart Housing office via email of DoD SAFE.  This will allow us to create your housing record and provide you valuable next steps.
For those living off-base, the variety of homes are nearly endless. Everything from modern homes and apartments with art nouveau architecture, to centuries-old half-timber converted barns and everything in between. While rental prices throughout the area vary slightly, as a general rule of thumb the areas closer to Stuttgart/Böblingen city center are higher in rent. Those properties located further out in the suburbs/countryside tend to be lower in rent and larger in size.
You can find housing vetted rentals on HOMES.mil, the Military Home Finders' tool website. This site contains listings of rental homes in and around Stuttgart, most within the school bus zones, and all are free of realtor fees.
Detailed information, to include landlord contacts, can only be given to customers that have in-processed and are authorized to move off-post.
There are many home types in Germany.  Apartments, penthouses, maisonette apartments (which are two- floored apartments), townhouses, duplexes and free-standing houses are available in the community. Larger, free-standing homes, however, are not in abundance. Apartments, townhouses, and duplexes are easier to find and are generally less expensive.
The cost of rent should align with applicable allowances to avoid out-of-pocket expense. Overseas housing allowances are listed on the DoD overseas allowance calculator webpage at https://www.defensetravel.dod.mil.
Housing referral services
The Housing Referral Services Office, managed by Pervin Estates, LLC, offers home-finding services to eligible Military Members and DoD Civilians.  Contractor personnel are not eligible for Housing Referral Services, however may attend the Central Processing Facility (CPF) Housing In-brief and request a copy of the USAG Stuttgart Housing lease for their use.
Pervin Estates manages the HOMES.mil listings website and provides up to three escorted home tours, home inspections, individual counseling to discuss rental properties found on HOMES.mil, and also assists with landlord/tenant dispute mediation.
All homes listed on HOMES.mil guarantee a furnished kitchen and light fixtures. Be aware that homes found on other rental websites may not include kitchen cabinets, appliances, or light fixtures and some require payment of a realtor fee. These are not reimbursable expenses.
On or off-post administrative steps
The CPF Housing In-brief is mandatory for all Military Members and DoD Civilians. It provides an overview of housing office services and incoming procedures. Please see your CPF in-processing checklist for schedule and location.
After this brief, Military Members of all ranks must then schedule a personal in-processing appointment with a housing counselor.
After attending the CPF Housing In-brief, DoD Civilians will receive a Pervin Estates customer routing form and other resources to commence house hunting. For Military Members this will take place after the personal in-processing appointment and if authorized to live off post.  Pervin Estates will return the landlord details by email. For the initial request, the routing and detail request forms are emailed to Pervin Estates. All subsequent requests for unit details will require the return of each comment card for each new landlord request listing. Comment cards are included in the unit detail request form.
Rental contract process
The USAG Stuttgart Housing Office Rental Contract is a legally binding agreement between the landlord and the tenant and is in both English and in German.
Upon availability, prospective tenants should submit a completed copy of the contract signed by the landlord or property manager to housing and then schedule a contract review appointment.  The appointment should be no later than 4 business days from the time the prospective landlord signed the contract.  Customers must not sign until advised to do so by a housing counselor.
On-post Family Housing
Military Members on accompanied tours are required to live on post when inventory is available.  Housing is assigned based on rank and family size.  Waitlist procedures are explained in detail during the CPF Housing In-brief. Assignments will be made as quickly as possible, straight off the plane in some cases, based on housing inventory and to lessen the time families will need to spend in transition. Ensure you communicate your and your family's arrival, or any changes, to housing. 
Unaccompanied Housing (UH) Personnel
In the OCONUS environment, Army-wide, UH Military Members in the ranks of E6 and below are required to reside in barracks.  Upon arrival all UH E-6 and below must report directly to Barracks Managers. Temporary Housing Allowance (TLA) is not authorized.
UH SMs that are Bona Fide Bachelors (not receiving stateside entitlements) in the ranks of E7 and above, and Officers, may choose to live in on post quarters or elect to rent privately off post.  Geographic Bachelors (receiving stateside entitlements), and most Reservist and National Guard members must live in on post quarters when they are available. All UH E-7 and above and Officers must report or contact the UH Office before making off post living arrangements to determine eligibility. Failure to do so may result in paying rent out of pocket.
We join our USAG partners in welcoming you to the community.  We are glad we live here and hope you will be too!