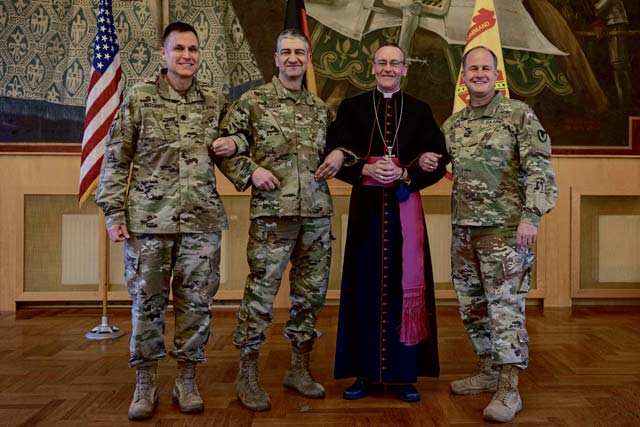 Welcome to the community!
We would like to invite you to join us in one of our services. The U.S. Army Garrison Stuttgart Religious Support Office (RSO) attempts to meet the needs of various faith groups by providing different religious services.
Protestant worship services include: Traditional, Liturgical, Contemporary, and Gospel — offered on Sundays. Catholic Mass is celebrated throughout the week across the Stuttgart military community, while Jewish services are held the first and third Friday of the month in the Panzer Chapel. Our Pagan/Wiccan group meets on Tuesdays at Patch Chapel annex. Buddhist services are provided online and Muslim prayer space may be accommodated by contacting the Religious Support Office. Other religious group accommodations by request. Check the Stuttgart App under Services and then under Religious Support to confirm current times and locations.
In addition to a wide variety of religious worship services, the RSO also provides religious education activities to include Jewish & Catholic Religious Education for all ages; Protestant Small Groups; Youth of the Chapel; Children's Church; Vacation Bible School and more.
Chapels are located on Patch Barracks in Bldg. 2305; Robinson Barracks in Bldg. 115; and Panzer Kaserne in Bldg. 2940.