USAG Stuttgart Public Affairs
Drivers with a USAREUR license can register an operational vehicle in the USAREUR Vehicle Registry. The first step is obtaining temporary license plates and registration. This requires a $45 fee for each year registered. Vehicles can be registered for 1-2 years at a time. New vehicles under 10,000 miles and not previously registered in any other system for more than 3 months qualify for up to a 3-year registration.
Customers must bring their U.S. forces identification card, USAREUR driver's license and proof of insurance (valid in Germany), as well as proof of ownership to register a vehicle. Contractors must also bring their Common Access Card (CAC), SOFA card, and passport.
Cars must be inspected for safety and mechanical condition. All vehicles must be re-inspected whenever registration is renewed. Brand new vehicles may be exempt from the initial inspection.
With a successful inspection, the temporary plates are then exchanged for permanent plates. The vehicle can be taken through inspection several times to pass if necessary. Note: There is no extension beyond the initial 30-day period.
Information about appointments and step-by-step checklists with required documents and processes are available on the Vehicle Registration page of the garrison website.
Fuel ration card
The fuel ration card is another benefit derived from the SOFA.
This card permits personnel to purchase fuel on post and at ESSO stations off post at prices comparable to stateside prices instead of the standard European price, which is typically much higher. The card can be obtained at the Express gas stations on Patch and Kelley Barracks, as well as the main Exchange on Panzer Kaserne. The card can be preloaded with money at almost any Exchange store, online, and by phone. The card is valid for fuel purchases at ESSO stations in Germany (not in any other country) at Exchange prices for the designated vehicle/personnel.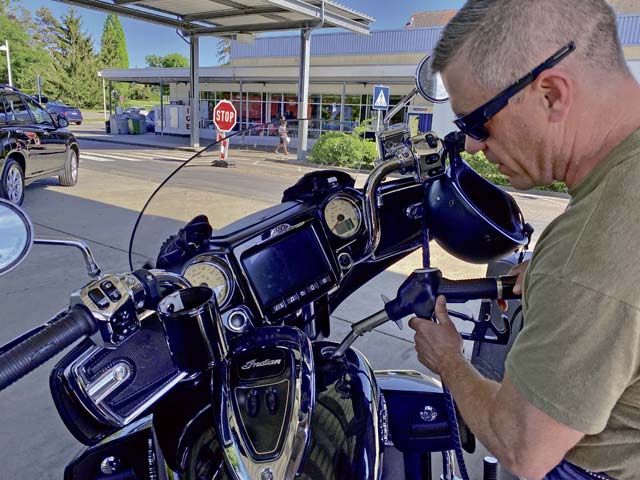 On post, the card can be used as a prepaid card, or drivers can opt to pay with cash/credit/debit card and keep the card's balance for off post use. In any case, the card is needed any time the vehicle is fueled in order to avoid paying European prices for fuel.
Drivers should maintain awareness of the remaining balance of their fuel rations. Multiple vehicles of the same owner (and multiple vehicles registered to the same sponsor, regardless of the primary user) share from a single monetary balance on the card and each vehicle draws from its own ration balance. The gas card and the associated ration are intended for those personnel listed on the registration only, and cannot be shared with others, even other U.S. personnel who are entitled SOFA benefits.
So, with a license in hand, a registered vehicle and a fuel ration card, newcomers are ready to drive.
Website: https://home.army.mil/stuttgart/index.php/my-garrison/all-services/vehicle-registration