Need to register your student in the Stuttgart community's DoDEA schools?
Follow the process below, starting with Online Pre-Registration (click the image to enlarge):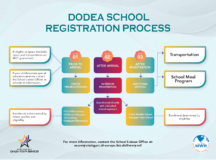 Special circumstances apply to:
Questions? Contact our School Liaison Officer.
The Stuttgart community's DoDEA schools are comprised of three elementary schools, a middle school (located on Patch Barracks), and a high school (located on Panzer Kaserne).
Stuttgart High School
Stuttgart High School (SHS), located on Panzer Kaserne, serves a student population of approximately 800 students with 70 teachers and administrators. The school offers more than 20 Advanced Placement (AP) courses and reports high average AP scores compared to US and other DoDEA schools. SHS is dedicated to preparing students to be college and career ready when they graduate.
SHS offers a variety of the following DoDEA curriculum courses: English (including AP and honors courses); mathematics (algebra through AP calculus); science (physics, chemistry, anatomy, biology, etc.); German and Spanish languages; computer, engineering and robotics courses; fine arts (humanities, band, theater, art, chorus); history; business, career and technical electives; and other activities.
SHS has an active Junior Reserve Officer Training Corps program, as well as extracurricular programs in football, golf, tennis, cross-country running, volleyball, wrestling, basketball, swimming, cheerleading, track, soccer, baseball, softball, rifle and military drill team.
Telephone: DSN: 431-4000; CIV: (0)7031-15-4000
Website: https://www.dodea.edu/StuttgartHS
Patch Elementary School
Patch Elementary School opened its doors in 1979 and continues its mission today, educating roughly 460 students from Kindergarten to Grade 5, as well as qualifying pre-school students.
The school is scheduled to relocate to a newly built facility on Patch Barracks in August 2022 after spending several years on Panzer Kaserne during construction.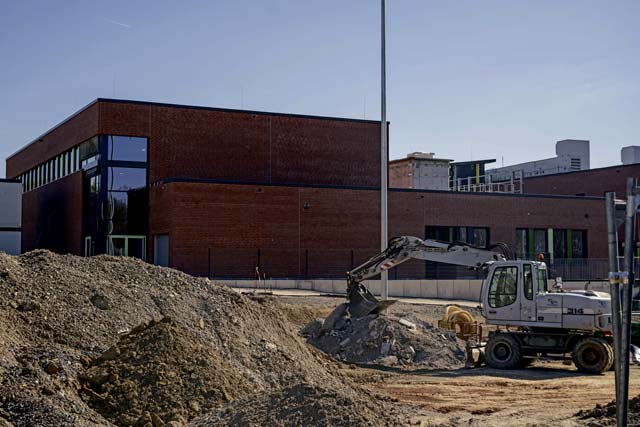 Its Parent-Teacher Association supports a variety of events such as Jog-A-Thon and a monthly themed reading bingo. After-school clubs include Robotics, Art, Chess, German, and Student Council. The School Advisory Committee emphasizes the partnership between school and home, setting yearly goals to enhance communication and clarify processes. Students are nicknamed 'STAR Stallions' to reflect how they 1) Strive to do their best, 2) Take responsibility, 3) Always work together, and 4) Respect themselves and others.
Telephone: DSN: 431-4900; CIV: 07031-15-4900
Website: https://www.dodea.edu/PatchES/
Facebook: https://www.facebook.com/DoDEAPatchES
Stuttgart Elementary School
Stuttgart Elementary School (SES) shares a school complex on Panzer Kaserne with Stuttgart High School. It has a student population of about 600, and a team of 80 teachers, administrators, and support staff.
SES believes in students, parents and community leaders working together in partnership with teachers. The school supports programs that encourage parent involvement and building a strong parent-school partnership. Family nights, parent-teacher conferences, the school advisory committee, Parent-Teacher Association, classroom volunteers, and parent chaperones opportunities are just a few of the ways the Mighty Griffin community creates a true parent-school partnership.
Telephone: DSN: 431-4100; CIV: (0)7031-15-4100
Website: https://www.dodea.edu/StuttgartES

Robinson Barracks Elementary School
Robinson Barracks Elementary School (RBES) opened in 1953 in a building that previously held a military hospital for U.S. forces.
The school has undergone several changes to its academic structure over the years, alternating between an elementary school and an elementary/middle school. Renovations and modernizations occurred in the late 1980s and early '90s. The school offers the standard DoDEA curriculum and provides extracurricular activities.
The school educates a student population of about 250 in kindergarten through fifth grade, with a staff of approximately 45 teachers and administrators. RBES values strong community-school relationships that are essential to high academic achievement.
It believes that successful schools include parents and community members that are involved and supportive. The community recognizes the value of educational and extracurricular activities, and RBES expects their students to excel both inside and outside of the classroom.
Telephone: DSN: 430-9337; CIV: 0711-680-9337
Website: https://www.dodea.edu/RobinsonBarracksES
Patch Middle School
Patch Middle School is the only middle school serving the Stuttgart military community, with approximately 650 students and 65 staff members.
Patch MS offers a diverse set of classes. In addition to the core subjects of math, science, languages and social studies, it offers many classes in art, music and technology to students in grades 6-8. Students have the opportunity to take advanced classes in foreign languages and mathematics.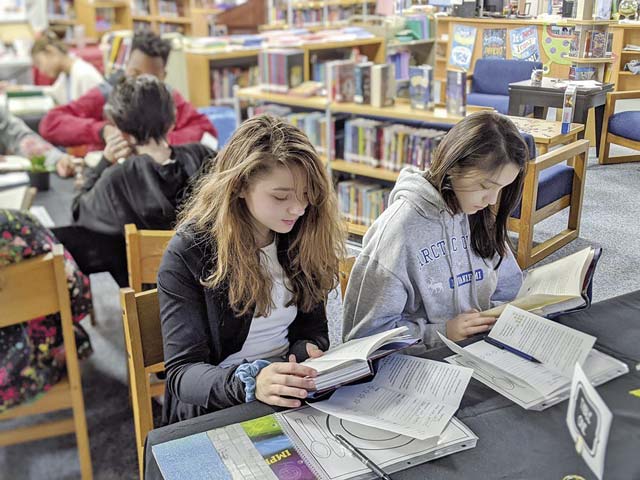 Patch MS offers a challenging and engaging curriculum that ensures their students of Patch MS are on the path to be college and career ready. Patch MS offers a variety of extra-curricular activities that allow students to explore unique topics and develop special skills.
Telephone: DSN: 430-7191; CIV: 0711-680-7191
Website: https://www.dodea.edu/PatchMS