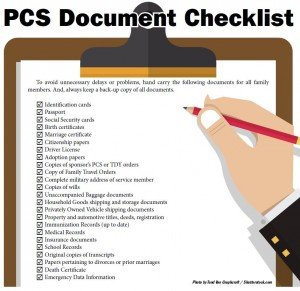 USAG Stuttgart Public Affairs
Make lists for:
High ticket items
Unaccompanied baggage (UAB)
Give notice to cancel:
Phone contracts
Housing – pre-inspection move out appointment and a move out inspection. Tip: Set aside house keys, window keys, mailbox keys and cage keys.
Cable – Tip: TKS and cable can be scheduled in advance to cancel once you have move out date. Service will be set to shut off the day you clear housing, and the cable box is returned, your deposit is refunded.
Cancel/closeout:
Esso card
School Lunch Act
Bahncard
German Banks
ADAC
Mail – Schedule forward
Unused VAT forms
Book:
Hotel
Pack out – Tip: Get inventory forms for alcohol shipment and check the rules of shipping alcohol to your inbound location.
Car transportation/cleaning
Airline tickets – Make sure SATO knows you are traveling with a pet and all vaccines and paperwork are checked in advance with the Vet Clinic on Panzer Kaserne.
Get Records: Tip: Organize, mark and put important paperwork and passports to the side so it's not packed during pack out to carry with you on the flight.
School
Medical/Dental – Tip: Get Medication refills too so not to run out during a PCS move.
Sell/Donate:
Car
220 volt items
Dispose of hazardous materials, cleaning supplies, liquids etc. to the Reuse Warehouse on Panzer Kaserne (across from the commissary) or to Self Help.
Tip: Check off as many Bucket List items as you can before you leave!
Check the PCS relocation guides for Stuttgart here.