USAG Stuttgart Public Affairs 
Most likely you'll fly to your next duty station from Flughafen Stuttgart, but first you'll need to get there.
You can reach Stuttgart Airport via the exit roads on the A8 (No. 53) or the B27. Please follow the "Arrivals" and "Departures" sign and park in one of the car parks or parking blocks (liable to charge). Rollimobil offers a special service with barrier-free car hire for people with physical disabilities.
If traveling by bus, the Stuttgart Airport Busterminal (SAB) is located directly between Flughafenstrasse and Terminal 4, at ground level beneath the newly built P14 car garage. The bus terminal is protected against wind and weather, with the P14 car garage offering complete protection against rain and snowfall. The bus terminal is just one street away from the airport, meaning that passengers can also use the services provided in the terminal building.
The airport can be reached easily and quickly by rail using Deutsche Bahn. Germany has an excellent rail infrastructure and you can check on the status of your train online. Use the municipal rail lines (S-Bahn) S2 or S3. You arrive without changing at Level 1 of Terminal 1. The S-Bahn station at the airport is accessible to wheelchairs and to the blind. The lifts and ticket machines can be used by wheelchair users. When moving from the S-Bahn level to the Departures area of the terminals, a change of wheelchair is necessary.
If coming by car and using a GPS, the address is Flughafenstrasse 32, 70629 Stuttgart.
Finally, if coming by cab, the taxi rank is located directly in front of Terminal 1 on Arrivals Level 2. The phone number for Taxi-Auto-Zentrale Stuttgart is 0711 19410.
You're at the airport … what's next?
Monitors to the left and right of the entrances to Terminals 1 and 3 will inform you in which terminal the check-in desk for your airline is located. You can also ask at the information desks. Terminal departure levels are directly connected to each other.
Allow plenty of time
Please ensure that you leave plenty of time prior to departure to reach the check-in desk of your airline (we recommend 90-120 minutes).
On arrival at the check-in desk of your airline, please present your airline ticket and passport or identity card and hand in your baggage. You will then receive your boarding card with your gate and seat number, and your airline ticket with a receipt for your checked-in baggage.
You'll proceed to your gate after you have checked in. The gate number is registered on your boarding card and can be read on the information screens/panels. You should go to your gate at least 30 minutes prior to boarding time. Please ensure that you have sufficient time on the way to your gate for security and passport inspections. And remember to have your passport, boarding card and airline ticket handy at all times. Please also take note of public address announcements and the display screens/panels.
Check-in on the eve of departure is a relaxing alternative way to start your trip. Not only can you check in your baggage free of charge, you can also collect your seat reservation and boarding card. Check-in on the eve of departure is a particularly ideal alternative for families with children, as they can save the time required for check-in on the day of departure. You can proceed directly to your gate with your boarding card, and your holiday can begin without any stress.
The availability of check-in facilities on the eve of departure differs considerably from airline to airline. Please check the conditions offered by the airline of your choice carefully, and note that you must also present your passport and airline ticket when checking in on the eve of departure.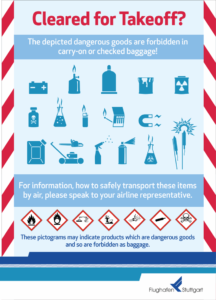 Baggage Security
Different rules apply to your airline, can obtain from their official website.
Extra baggage will be charged separately. Hand baggage consists of a small piece of luggage that can be taken into the aircraft cabin. Please use the special fixtures next to the check-in desks to check that your hand baggage does not exceed the dimensions allowed.
Please leave dangerous substances and objects at home. These will be confiscated during the security check. They include explosives, gas bottles and containers, potentially-flammable solid or liquid substance, and weapons and ammunition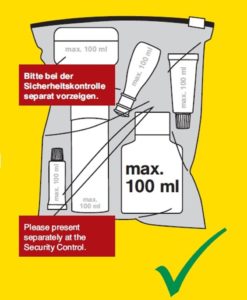 Security
Passengers must undergo a security check prior to moving to their gate. Security personnel will check you for metal objects with a detector. Your handbag and hand baggage are checked in an X-ray machine. Place your coat or jacket and any objects containing metal (e.g. keys or loose change) in the containers provided – this will speed up your inspection. And make sure you are not in possession of prohibited articles. Please note that any notebook, video camera or photo camera in your possession will be subject to close examination.
 Checking in and traveling with pets
Please contact your airline in advance about the approved species and the terms and conditions of transport. The transport of dogs and cats is generally permissible, while rodents are strictly excluded. However, every airline has its own rules and may grant exceptions, e.g. for birds.
Inform your airline well in advance that you will be travelling with your pet.
The veterinarian responsible for the animal will provide you with the required pet passport, in which all vaccinations are recorded. The unique identification of the animal is ensured by the implantation of a microchip on which all relevant data is stored.
Provide a suitable transport box or kennel for the transport of the animal. This can be purchased at a pet shop (the sale or lease of a transport box is not possible at the airport).
Pets in the cabin or cargo hold
Plan sufficient time to be at the airport at least one and a half hours before departure. You need a pet passport for checking in the animal, which you should carry with you at all times. Please note that late-night check-in is not possible for animals. Your animal is weighed, brought into the security area and then put into the transport box.
Animals which comply with the airline-specific hand luggage size and weight specifications may be taken on board. You should check with your airline beforehand whether the animal may be transported in a flexible (soft) bag or in a plastic box.
Animals that do not comply with the hand luggage size and weight specifications will be transported in a heated cargo hold. Label the transport box with the animal's name, full address as well as the telephone number. In accordance with the animal welfare ordinance, the animal must be able to lie, sit, stand and turn around inside the transport box. The transport box must also be equipped with a water bowl and sufficient absorption material.
Please contact air cargo for information on the transport of larger animals, such as horses.
(Editor's note: Information, graphics and photos for this article were provided by Flughafen Stuttgart .)