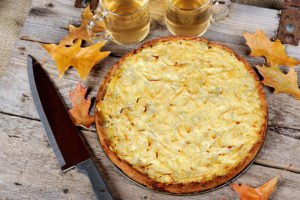 By Therese Weiss
Special to the Stuttgart Citizen
A well-known local Swabian "Feinschmecker" (connoisseur) said "Onion cake is indescribable, it must be smelled and tasted." This is especially true during fall when it's available in bakeries and restaurants.
While you are living here in Germany's "Great Southwest," you really should get acquainted with a special seasonal and very regional culinary delight:  zwiebelkuchen and neuer wein (hot onion cake and cool, sweet, new wine.
Zwiebelkuchen consists of a yeast dough base topped with chopped onions, eggs, sour cream and bacon, seasoned with caraway seeds. This tasty autumn delicacy is a favorite in wine-growing regions of Germany, Switzerland and Austria after the onion harvest is over and new (or young) wine is ready to drink. Indeed, zwiebelkuchen und neuer wein are an inseparable duo at this time of year.
Each fall in Germany, new wine, also called Federweisser (feathery white) or Federroter, (feathery red), Sauser, etc, is a heady beverage in the transition phase between traubensaft (grape juice), (most) cider and the end product – real wine.
In late September and early October, you can buy new wine from vintners, wine dealers and beverage shops, and even at some supermarkets. Take home a liter or two and enjoy it soon on a cold, rainy or foggy afternoon along with the perfect fall pastry – onion cake. It will be a real feast!
Sample these tasty specialties at your favorite local gasthaus.
Guten Appetit!
Bake an authentic Schwaebischer Zwiebelkuchen
Ingredients for the dough:
8 ¾ oz. flour
2 oz. butter
¾ oz. yeast
a pinch of salt
enough milk to make the dough
Ingredients for the topping (filling):
2 lbs. onions
2 oz. butter
3 eggs
½ pint sour cream
1 lb. bacon
a little flour
caraway seeds
Preheat oven to 375 F. Mix ingredients for shell into a dough and let dough rise. Meanwhile, dice onions, fry in butter and blanch.  Stir flour into sour cream until mixture is smooth, add eggs, salt caraway seeds and onions.
Place shell into a baking pan and add the filling.  Spread diced bacon and butter flakes on top.  Bake until medium brown.
Serve hot or warm, to taste. Enjoy, enjoy – and ignore the weather outside!