USAG Stuttgart Public Affairs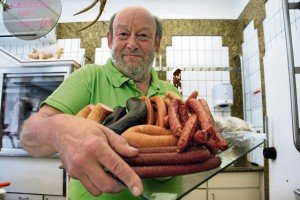 The traditional German manner of eating is to have a big, hearty, warm meal at midday and have some bread, cheese and sausages or cold cuts in the evening.
However, as times have changed, so have habits. Restaurants now offer a wide variety of lunch and dinner options ranging from a simple bread plate to a full, multi-course meal.
Hearty German cuisine usually focuses on a main meat dish. To add to the solid heartiness of a good meat dish, potatoes are usually served in some form, from mashed potatoes to potato salad, to potato pancakes and more. A wide variety of bread products also make up a large portion of the traditional German diet.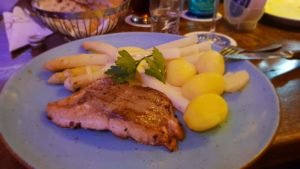 Vegetarian dishes featuring fresh and local produce are certainly popular as well. Every year Germans go crazy for spargel, white asparagus, in the brief spring season when it appears. Rote Linsensuppe, a simple soup comprising of red lentils, carrots and onions is a traditional dish often served during the winter months. Germans like to buy fresh local produce, and most cities and even smaller villages host a farmers' market at least once a week.
German regions each boast their own unique cuisine and pride themselves on certain foods or dishes.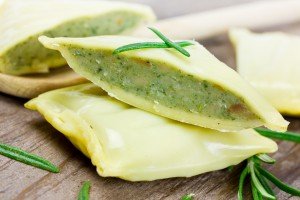 A signature Swabian dish is maultaschen, a layered pasta dish similar to ravioli. It is larger than ravioli: instead of using tomato sauce, it is packed with minced or smoked meat, spinach, onions, herbs and spices.
Zwiebelrostbraten, a beef roast with sautéed onions, is another popular Swabian dish.
Flammkuchen, which originated in the German state of Saarland, near France, is now popular everywhere. It looks like a pizza, but there are important differences; the base is thin and crispy but the sauce topping isn't tomato based, it's a creamy blend of crème fraiche and yoghurt.
Schnitzel, served throughout Germany and beyond, is usually served with french fries. Roasted meats and fish vary from region to region, making traveling throughout Germany a culinary delight. Käsespätzle, a noodle and cheese dish, is not to be confused with macaroni and cheese. Rotisserie chicken is very popular, as are Turkish influenced dishes like kebaps.
Wine has been developed to a high art form in Germany, and different regions produce a variety of wines, many of which can be enjoyed right at the vineyard. From red Dornfelder to white Moselle, a German wine can be found to please most any palate. Stuttgart especially takes pride in its wines, and it is the only city in the country to have its own municipal winery.
Germany has long been associated worldwide with beer, and for good reason. Swabian breweries produce several great beers. In general, German beer is typically a little stronger than American beer, ranging from around five percent to as high as 16 percent alcohol by volume. It is important to remember to enjoy alcohol responsibly in Germany. Drinking and driving laws are very strict.
Local festivals and seasonal markets are a great way to sample and enjoy new dishes and beverages.
As a centrally-located European nation, Germany enjoys a wide variety of foods from other nations. Italian, French and eastern European restaurants are common, and other varieties of international fare such as Asian and Indian foods can be found as well.
Guten Appetit!