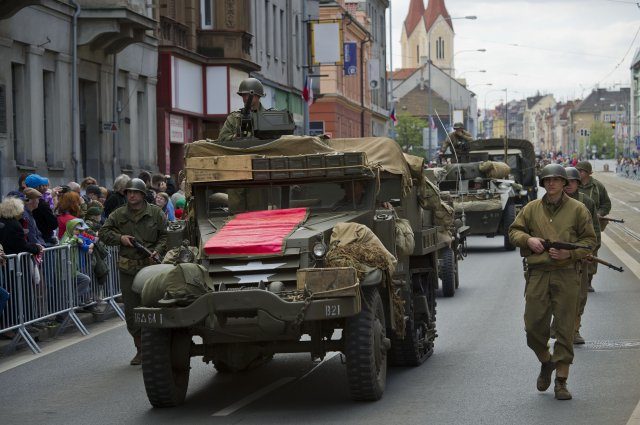 By Holly DeCarlo-White
USAG Stuttgart Public Affairs
The annual Liberation Festival Pilsen in Pilsen, Czech Republic, takes place May 3-6. The festival's activities celebrate the U.S. Army liberation of Pilsen by U.S. and Belgian armed forces from the Nazi occupation, May 6, 1945.
The City of Pilsen hosts an event program that includes an Australian Pink Floyd show, May 1 followed by Pilsen talks organized by the West Bohemian University, May 3, and an exhibition commemorating the 75th anniversary of the 16th Armored Division entering Pilsen, the first American unit in Pilsen in 1945. The program offers concerts by the American Count Basie Orchestra, May 4; a "Convoy of Liberty" parade, May 5, beginning at 11 a.m. from Sukova Street, passing through Klatovska Street to the main city square; and a traditional commemorative act, May 6, at 4 p.m. at the "Thank you, America!"memorial.
View the full event program: http://slavnostisvobody.cz/en/program/main-program/
"Every year we celebrate the liberation by the American Army, and every year, fewer World War II veterans are able to come. Let's not let this beautiful tradition of celebrating the U.S. Military disappear," said Katerina Smidova, Pilsen community member and event participant.
The City of Pilsen event page includes several interviews with American and Belgian veterans who participated in the liberation of Pilsen and other sites in western Bohemia in 1945.
For information on the event and the City of Pilsen, visit http://slavnostisvobody.cz/en/.
Distance to Pilsen:
Vilseck 71 mi, Stuttgart 202 mi, Ramstein 260 mi
Fun Fact: Pilsen is home of the well known beer, Pilsner Urquell
Related article: https://www.army.mil/article/125590/honoring_america_the_pilsen_liberation_festival