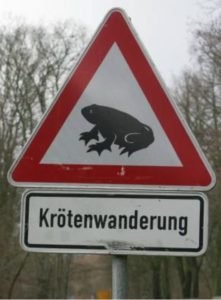 Each year, as spring approaches, German and American volunteers from Böblingen and Sindelfingen engage to save toads, frogs and salamanders from being run over by cars on the road between Patch Barracks and Panzer Kaserne popularly known to the U.S. military community as "Frog Road."
In addition to the danger of being run over, toads can also be fatally harmed by the fast-paced airflow caused by passing vehicles.
"Speed above 40 km/h or 25 mph will tear its inner organs by the pressure generated by the airflow under a car," said Dieter R. Goettling, volunteer organizer. "So, slow down if toads are around!"
Stuttgart military community members are invited to join dozens of other volunteers to help return the toads to their habitat away from the busy road. Depending on weather conditions, volunteers take action from early March through mid-May. About 30 volunteers per morning and afternoon shifts spend 1–2 hours catching toads. In that time, volunteers can individually expect to  catch more than 30 toads and salamanders. Several sunken pails are also placed in the ground for toads to safely hop into before they make it to the road; the captured toads and salamanders are then returned to the safety of their watery homes.
Newcomers are welcome to participate in this nature conservation activity and annual tradition, and to learn from local German community members about the toads and their habitat; it is also a good way to gain hands-on learning through volunteering.
To volunteer, call Goettling at 07031-80-6525 or email d-gtg@t-online.de.