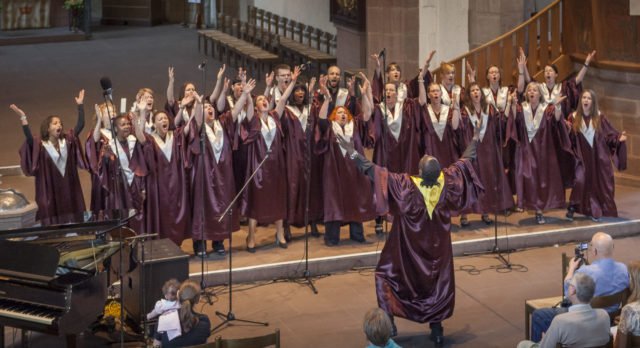 By Carola Meusel
USAG Stuttgart Public Affairs Office
Featuring more than 80 events such as lectures, exhibitions, music, concerts, movies, workshops and sports, the Deutsch-Amerikanisches Zentrum (German-American Center) James-F.-Byrnes Institut Stuttgart will host its "American Days," Oct. 16-28.
The 8-day program revolves on the United States' culture, society, politics, economy and the American way of life, according to Christiane Pyka, director of the German-American Center Stuttgart.
"The festival aims to emphasize the bonds we have here when it comes to U.S. culture and topics," Pyka said. "Beyond that, we would also like to network with and connect the various partners and institutions for future projects and an ongoing exchange."
About 90 institutions, ranging from German-American groups, culture associations, foundations, sports clubs and schools, will partake and support the various events and programs. The German-American Institutes in Heidelberg, Tübingen and Freiburg will also participate.
American Days were established in 2008, with the intention to provide information about the U.S. and its diversity to the public, especially as American history is very present in Stuttgart, according to Pyka. Today, the American Days make for one of the largest German-American culture festivals in Germany also celebrating its 10th anniversary.
Pyka also pointed out that the American Days festival provides a platform for Germans, Americans and people of all nationalities to foster relationships not only on the local level, but beyond Stuttgart.
"After all, it's a culture festival," she said.
The program is designed for all age groups, and events are held in German, English, or in both languages. Most events are free of cost.
Highlighted events:
• Oct. 17, 6-9 p.m.: "Break-n' the Rulz: Hip Hop and American Film" at Stuttgart University, Keplerstrasse 17, Bldg. II, 70174 Stuttgart. Lecture/discussion (English), free admission. A lecture with Richard J. Powers, lecturer at Stuttgart University and emeritus professor of English, University of Maryland University College, will showcase clips from popular American hip-hop movies from the 1980s to present. Following the presentation, audience members are encouraged to ask questions and participate in a dynamic discussion. Snacks and beverages will be offered.
• Oct. 18, 6 p.m.: German-American Art Show, city hall, Bad Cannstatt, Marktplatz 2, 70372 Stuttgart. Exhibition (English/German), free admission. The German-American Artist Group Stuttgart, a consortium of German and American artists, will feature an exhibition at the historic city hall in Bad Cannstatt. Col. Neal A. Corson, commander, U.S. Army Garrison Stuttgart, will open the exhibition along with Bad Cansttatt's District Mayor Bernd-Marcel Löffler. The exhibition will run until Oct. 26. The group will also feature an exhibition at the Deutsch-Amerikanisches Zentrum, Charlottenplatz 17, 70173 Stuttgart, at 7p.m., Oct. 24. The exhibition will run until Nov. 11 and can be viewed Tuesday to Friday from 9 a.m. to 1 p.m., and 2-6 p.m.
• Oct. 20, 9 a.m. to noon: Autumn Volksmarching Day, Mettertalhalle Horrheim, Neue Schulstrasse 33, 71665 Vaihingen-Horrheim. Fun & Games (English/German). Cost €2. Join the Stuttgart German-American Wandering Club for a six to 11 kilometer hike through the picturesque Enz Valley and discover the international sport of Volksmarching. Hikers must register by Oct. 18 by emailing clubpresident@sgawc.org.
• Oct. 21, 1:30-2:30 p.m.: "Light Sensitive 2," photography from the Schaufler Collection, SCHAUWERK Sindelfingen, Eschenbrünnlestrasse 15/1, 71065 Sindelfingen. Guided tour (English), free admission. The Light Sensitive 2 exhibition presents about 150 photographic works by German and international artists from the Schaufler collection including classic genres of photography–portrait, nude portrait, landscape, architecture and industry. The tour and admission to the entire collection of the museum will be free Oct. 21 exclusively for American Days.
• Oct. 22, 8-9:30 p.m.: Big Monday Night, Hochschule für Musik und Darstellende Kunst (HMDK Stuttgart Music School), Urbanstrasse 25, 70182 Stuttgart. Concert (German/English). Cost €10. The HMDK Stuttgart Big Band will present American jazz with bandleader Prof. Dr. Rainer Tempel. Tickets can be purchased in advance here.
• Oct. 25, 4:30 p.m.: Behind the Scenes of the State Theater Stuttgart, State Opera house (meeting at the steps, right entrance door. In case of inclement weather, under the roofing opposite of the State Parliament), Oberer Schlossgarten 6, 70173 Stuttgart. Guided tour (English), €10, children 7 years and older, €5. Get a glimpse behind the scenes of the State Theater Stuttgart, where theater, ballet and opera lovers typically enjoy their evenings year-round. But what happens at the theater throughout the day? Sneak a peek at the stage, the building, daily operations at the theater, workshops, costume department, and the engineering involved in theater productions. Patrons must register by Oct. 25 by emailing thomas.koch@staatstheater-stuttgart.de.
• Oct. 27, 2:45-5 p.m.: Guided history walk in English through Esslingen am Neckar, meeting point will be at Marktplatz 16, 73728 Esslingen adjacent to the tourist information. Free admission. Explore Esslingen's medieval and picturesque downtown area with its half-timbered houses, coble stone streets, hidden alleys, the historic city hall and church. The tour will conclude at a Swabian restaurant, where participants can also sample local wines (individual payment). Register by Oct. 25 by calling 07181-46594 or email s.beard@gac1948.de.
For more events and information, visit here. Check the website frequently, as times and locations could be subject to change. Program flyers can be picked up at the Public Affairs Office, Bldg. 2949, Rm. 312, Panzer Kaserne.
Catch Culture Corner
Tune in to Culture Corner on AFN Stuttgart Oct. 11 from 8-9 a.m., to hear about the festival from the DAZ American Days program manager.