Art lovers, party-goers, museum enthusiasts, music buffs and night owls alike can explore Stuttgart's culture scene during the "Lange Nacht der Museen," or Long Night of the Museums, on March 15 from 7 p.m. to 2 a.m.
The evening features over 90 events located in and around downtown Stuttgart, such as exhibitions, concerts, performance art, boat trips on the Neckar River, theater performances, parties and more.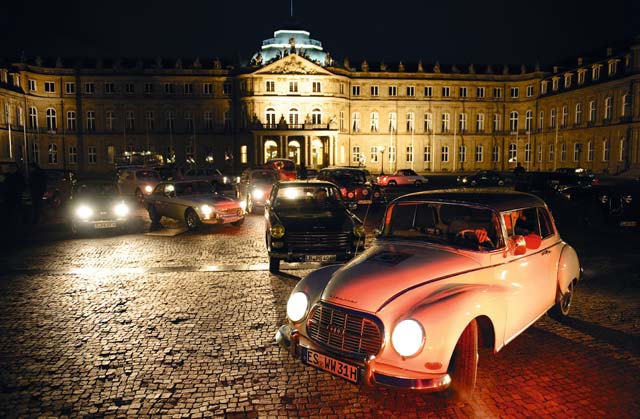 Besides exhibitions in Stuttgart's main museums, such as the "Kunstmuseum" (Art Museum) and "Landesmuseum" (Württemberg State Museum), many smaller institutions, to include galleries, archives and art studios, will offer programs and entertainment during this long night out, according to Anette Taube, event organizer from "Lift" Stuttgart (city magazine).
"Lange Nacht der Museen is a one-of-a-kind opportunity to get to know Stuttgart and its cultural scene in only one evening," Taube said.
Every year, new cultural outlets are added to the program.  This year, one of them includes Stuttgart's Neues Schloss, or New Castle (U-Bahn stop Schlossplatz). The castle was built between 1746 and 1807 by the dukes and kings of Württemberg and is one of the last city palaces in southern Germany. Located on Schlossplatz Square next to the Alte Schloss, or Old Castle, it marks Stuttgart's city center. Today, the castle is mainly used for receptions and events of the state government.
During "Lange Nacht der Museen," visitors can tour the historic building, to include the "Marmorsaal," or Marble Hall, and the "Runde Saal," where the council of ministers meets every week.  The castle will be open from 7 p.m. to 1 a.m.
After touring Neues Schloss, car enthusiasts may want to sojourn at the castle's courtyard where 100 classic cars will be displayed as part of the "Rollende Museum," of the Württemberg Automobile Club. Visitors can also take a ride in the classic cars to get from Schlossplatz to the Mercedes-Benz and Porsche museums between 7 p.m. and midnight.
"The fact that every location will offer a unique program makes for a memorable atmosphere," Taube said. Many locations open their doors for the public exclusively during Lange Nacht der Museen and allow for a peek behind the scenes, she added.
One of these locations is the "Schick-Areal" in Feuerbach (U-Bahn stop Feuerbach Bahnhof, shuttle bus to Schick-Areal, Friedrich-Scholer-Str. 13). The former train depot now is home to more than 30 artists and their workshops, photo and art studios, and a coffee roaster.
The artist Dagmar Feuerstein will present sculptures made of concrete and explain her works at "Atelier Dagmar Feuerstein." At "Atelier Neonow," visitors can learn all about screen-printing techniques and participate in hands-on activities. A piano concert and video art will be offered as well at "Kunsthalle Feuerbach."
For an artful adventure on the Neckar River, visitors should stop by the Stuttgart industrial harbor. A light show called "Metamorphosis" will illuminate the entire harbor.
Light show performances will run every 30 minutes from 7 p.m. to 2 a.m. Boats will take off from 7 p.m. to 1 a.m. from Mittelkai 5 (shuttle bus stop am Mittelkai, Stuttgart-Wangen).
After World War II, the bunker hotel below the Marktplatz Square (shuttle bus stop Karlsplatz, Marktplatz, U-Bahn stop Rathaus) offered its guests heated rooms, bathrooms and a reading area. The bunker hotel closed in 1985. During "Lange Nacht der Museen," people can tour the bunker from 7 p.m. to 2 a.m.
Lange Nacht der Museen also offers many events for children.  At the "Stadtlabor," (U-Bahn stop Charlottenplatz, Kriegsbergstrasse 30), which is located at the "Wilhelmspalais," children can experiment with bamboo and build stars, towers, pyramids and a labyrinth with the plant from 3-7 p.m.
At the "Haus des Waldes," a nature and forest center, (U-Bahn stop Waldau, Königsträssle 74, Stuttgart-Degerloch) from 4-7 p.m. children can participate in hands-on-activities such as building a campfire, learning about trees or baking their own goodies at the baking hut.
According to Taube, the evening offers something for everyone's taste, from classic exhibitions for ambitious art lovers, children's activities, music, history and alternative art.
"Also, typically, people cannot tour a museum at night which makes for a different experience," Taube said.
The ticket price includes transportation and admission into every venue. Shuttle buses will run all night from the Karlsplatz and Schlossplatz bus stops.
Beside the buses, underground train U6 will transport patrons to various event locations until 2 a.m., allowing for more flexibility. All forms of public transportation within the Verkehrs-und Tariverbund Stuttgart (www.vvs.de) are included in the ticket price.
Tickets cost €17. Children 14 years old or younger cost €6. Children 5 years old or younger are free. An adult ticket is valid for an accompanying child 14 years old or younger.
To purchase tickets call civ. 0711-6015-444.Tickets can also be purchased the night of the event at all participating locations.
For more information, visit www.lange-nacht.de.