Think your teenager will be unaffected by teen dating violence? Think again. About one in three American youths age 14-20 say they've been victims of dating violence, according to research presented at the 2013 American Psychological Association's annual convention.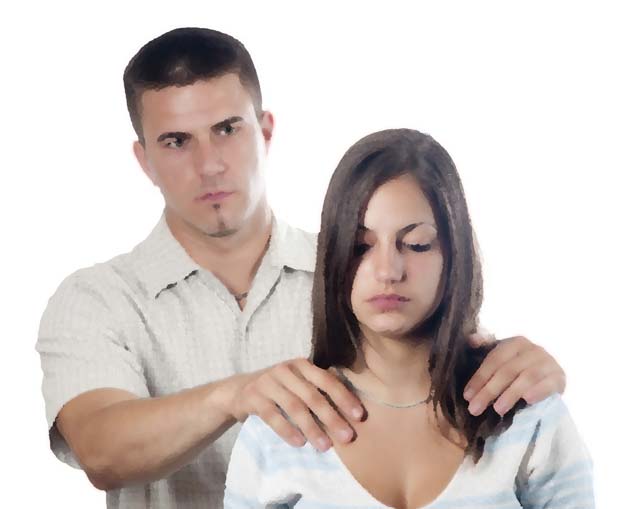 It's a big problem. That's why Patch High School students performed "Don't U Luv Me?" a play by Linda Daugherty, for over 500 students, staff and the public earlier this month.
February is Teen Domestic Violence Awareness Month. While some schools may have approached the topic of teen dating violence with a pamphlet or a PowerPoint presentation, PHS and Army Community Service's Family Advocacy Program teamed up to bring the production, a realistic and powerful take on a touchy, but emotional and prevalent issue, to the Stuttgart military community.
Casting the part of the abusive boyfriend was difficult. Two students dropped out of the role because the subject made them feel uncomfortable.
In fact, the female lead of Angela, played by Gabrielle Gehler, said she felt the same way, however, she had a friend in an abusive relationship. "I thought that this could help her in some way," Gehler said.
With only 15 rehearsals, and a cast and crew of 12, the play showed how happy the couple appeared in the beginning of their relationship, how C.J., Angela's boyfriend, started to control and manipulate her, and how Angela's friends got involved and helped her to end the relationship.
For the director, senior Abigail Storey, it was an all too familiar situation.
"My freshman year I was in an abusive relationship and it's something that, if I had seen this [play], maybe it wouldn't have progressed as far as it did. It was really important to me to shine an accurate light on how those relationships really do go down, and I feel this play is a really accurate portrayal … the warning signs are all dead on," Storey said.
Following the play, Sonia Greer, FAP specialist; Staff Sgt. Matthew Hoover, Military Police investigator; Wayne Holder, school liaison officer; James Hayden, FAP domestic violence victim advocate; and Jasmin Coty, counselor with Army Substance Abuse Counseling Service, facilitated a discussion with the high school students to engage them in realizing the patterns of an unhealthy relationship and how to get help for themselves or their friends.
The same discussion was held after a performance for the public, during which many of the parents in attendance took part in a heated discussion on who was at fault for the abuse.
"You could tell it was something the parents never thought about, that this could be something happening to [their] child that [they] wouldn't know about. We were hoping it would start a conversation, not just at school, but at home," Storey said.
Storey added that the point of the production was to raise awareness of teen dating violence, as it is not something people like to talk about and therefore isn't addressed as much as it should.
In Storey's case, she first sought help from her youth minister. "Sometimes it's not easy to go to your parents because you don't know what you're going to say necessarily, and it's nice to have someone else who you're close with to be like, OK, I need help to approach my parents about this," she said. "I think ultimately talking to your parents is important. You should always seek help from an adult.
The play has had an immediate effect on at least one student.
"I already know of someone who has gotten out of an abusive relationship as a direct result of this play, but that's just one that I know of and there could be several others. Over 500 kids saw this play, and you could tell they came in expecting another boring assembly, but they left completely blown away, and that's what the whole purpose was," Storey said.
Editor's Note: Lexi Pache is a Patch High School student intern who works in the U.S. Army Garrison Stuttgart Public Affairs Office.