Story and photos by Sgt. Eric Johnson
AFN Stuttgart
Special to The Citizen
When you say "football" to Europeans, they don't immediately think of how Americans associate football with National Football League.
To Europeans, football is played with a round ball instead of a brown pigskin with white laces and only the goalkeeper can use his hands. To most Americans, such as myself, we know that game as soccer.
A European football game, called a match, runs 90 minutes long (unless there is overtime). Penalties in the NFL use yellow flags, but in soccer, penalties are measured in red or yellow cards.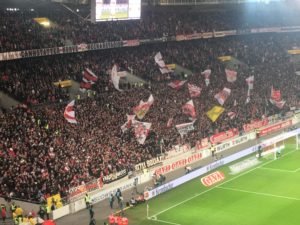 European football is taken very seriously here in Germany and throughout Europe. For those who want their soccer fix they can get it without even leaving the Stuttgart community.
The Stuttgart area has two teams you can choose to watch: the Stuttgart Kickers, which play in Degerloch, and Verein für Bewegungsspiele, known as VFB Stuttgart, who play in the Mercedes Benz Arena in downtown Stuttgart. The Stuttgart Kickers play in the Regionalliga Sudwest (Regional League) and VFB Stuttgart is currently in the second tier of the German Bundesliga (Federal League).
I know what you're thinking, VFB Stuttgart is not in the top tier. For those naysayers, I say, give them a chance. Every player's ultimate dream is to get into the best league, whether it's in Europe or Major League Soccer, but they all have to start somewhere.
Both teams have seen players come and go through the years. Those familiar with the game may not know that a young soccer player, who began his professional career here, went on to do great things. He played some of his career right here in Stuttgart. You might be thinking, who could it be?
It is none other than Jurgen Klinsmann, the former German National and U.S. National coach, who got his start right here in Stuttgart. Klinsmann played for the Stuttgart Kickers from 1981 to 1984. He had also previously played for their youth team. Following the Kickers, he went on to play with VFB Stuttgart from 1984 to 1989. Klinsmann most definitely left an indelible mark on soccer in Stuttgart, and in Germany.
Another little-known nugget is the Klinsmann's have a local family owned bakery. If you want to visit, Bäckerei Klinsmann is in Botnang. In fact, during the 2014 World Cup that was won by Germany, the Klinsmann family had to tell folks to leave because too many people wanted to take pictures in front of the bakery. At that the time, he was the coach of the U.S. men's national team.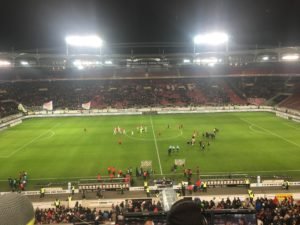 Fans who to wish to see popular players like Lionel Messi, Christiano Ronaldo, Wayne Rooney and Arjen Robben will have to spend a few more Euro for tickets (plus travel) to see them in their respective leagues, but you won't be disappointed. However, for the money you can save, there are two teams right here in Stuttgart that will give you an equally great fan experience and satisfy your soccer fix at the same time. Attending a European football game an experience that you can't get in the states, one that shouldn't be missed while living in Stuttgart. Just for the atmosphere alone, to take it all in, believe you me.
How to purchase tickets:
Tickets for both teams can be purchased on their respective websites and at various locations throughout Stuttgart. One great thing is that public transportation to and from the game is included, free, with the purchase of a VFB Stuttgart game ticket. Both stadiums are easily accessible by public transportation.
For more information visit the websites below.
For this reporter, who played soccer in school and never thought he'd see it in Europe, I leave this tour of duty in Stuttgart a very happy camper, and proud to say the Stuttgart slogan, "I am glad I live here." I will definitely see more matches when I return.