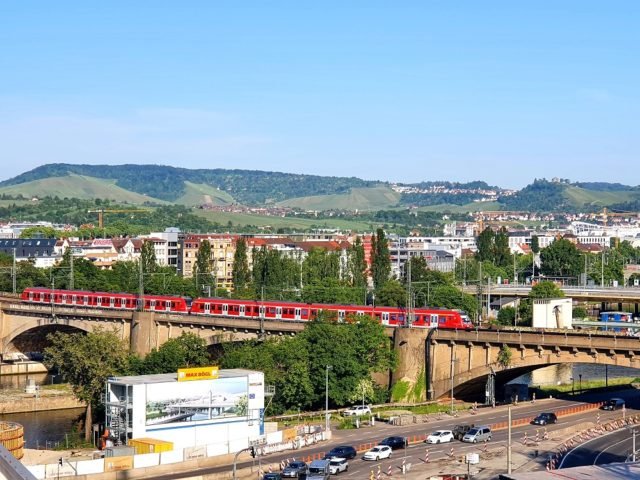 By Bardia Khajenoori
USAG Stuttgart Public Affairs
Germany will make a significantly discounted flat-rate public transit ticket — known as the "9-Euro-Ticket" — available to the public in June, July, and August as a relief measure against high gas and energy prices.
Ticket sales began in some areas and outlets as early as May 9, but the initiative only gained final approval on May 20.
Below are some answers to common questions about the offer:
Where can I get a "9-Euro-Ticket?"
Tickets have been on sale through two Stuttgart public transit apps (SSB Move and VVS Mobil) since mid-May. Between May 23 and June 1, they will become available for purchase through station ticket machines, the DB Navigator app, DB Travel Centers, SSB Customer Centers, and from regional bus companies. The tickets are not available for sale from SSB buses in Stuttgart.
What kinds of public transportation can I use?
All forms of local and regional public transit, including buses, S-Bahn, U-Bahn, and non-long distance trains (with prefixes RB, RE, IRE, and MEX). This also includes options in Stuttgart such as the 'Zacke' (rack railway) and Seilbahn (historic cable car), both of which are operated by the SSB, and ferries operated by the public transit company in cities such as Berlin and Hamburg.
"9-Euro-Tickets" are not valid for travel on long distance trains (with prefixes ICE, IC, EC, or the Flixtrain) or long distance buses (such as Flixbus).
One exception is trains running on the Stuttgart-Singen-Konstanz route, which also stop in Böblingen and Sindelfingen. Trains on this route labeled IC are also labeled with an RE designation and are valid for use with tickets for local and regional transit.
When and where is it valid?
The "9-Euro-Ticket" is only valid for one calendar month at a time. That means there is one "9-Euro-Ticket" for the month of June, one for the month of July and one for the month of August. So if you want to travel with the "9-Euro-Ticket" all three months, you have to buy three individual tickets. A "9-Euro-Ticket" that is valid for all three months is not available.
The ticket is valid for local transit throughout Germany, regardless of where it is purchased.
How much does it cost?
Each month's ticket will cost €9.
Who can buy the "9-Euro-Ticket?"
Anyone can, residents or visitors alike.
Do children require a ticket?
Children under 6 always travel for free in Deutsche Bahn trains and within the VVS service area (Stuttgart area public transit), so they don't need a ticket.
Children aged 6-14 do not travel for free, so they will need their own regular ticket or "9-Euro-Ticket."
Is the "9-Euro-Ticket" valid for dogs?
The 9-Euro-Ticket is not valid for dogs, and dogs travel under the same conditions they normally do in the area in which you are traveling.
In the Stuttgart (VVS) area, dogs which are not small enough to fit in transport boxes require a child's ticket to ride.
Is the "9-Euro-Ticket" valid for bikes?
If you are traveling during a time when a bike ticket is required (6-9 a.m. on weekdays for the Stuttgart S-Bahn, except for holidays), you will still need to buy one. The "9-Euro-Ticket" does not include bike carriage.
Is the "9-Euro-Ticket" valid for first class?
No, it is only valid for second class travel.
How can I make sure my ticket is valid for the connections I want to use?
The official DB Navigator app has an option to route your journey only through regional transit to ensure that you only use services that are included.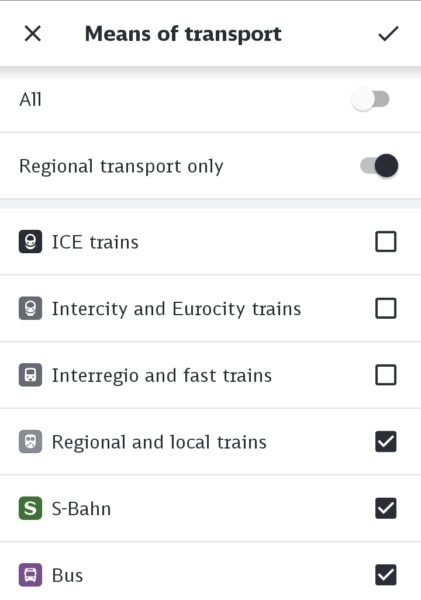 First, from the "Planner" screen, tap the space between the date and time selection and the red "search" bar. Then, tap "options." Next, tap "means of transport." All available modes of transportation are selected by default. To show only regional and local transit, simply tap the button labeled "Regional transport only." This should uncheck the top three boxes reflecting long distance trains. Tap the checkmark at the top right of the screen to confirm.
The same option exists on the DB website – in the "timetable & booking" search, tap the grey box to the right of the destination station to expand the options and check the box labeled "local transport only."

You can confirm that the route you wish to take is valid with the "9-Euro-Ticket" if the price shown by the app/website for the journey is €9.
Note that these instructions are for routing purposes only. The app/website may offer you an option to buy a ticket for the connection for which you've searched, but this is not necessary if you already have a valid "9-Euro-Ticket".
Seat reservations are generally not possible on local and regional transit. If the connection you are shown offers the ability to reserve seats, it is likely not valid for use with your "9-Euro-Ticket".
Do I have to cancel the "9-Euro-Ticket," or does it end automatically?
It ends automatically at the end of the calendar month. There is no commitment or need to cancel anything.
What if I already have an annual ticket?
Monthly subscribers of local transit should be charged nine euros each for June, July, and August. Those who prepaid for annual tickets will be entitled to refunds of the difference for those months, but the procedure for claiming them is not yet finalized, according to the SSB. If you have questions, contact the provider through which you purchased your ticket.
If I have already have a VVS TicketPlus which allows someone to ride with me for free at certain times, can they ride with me for free around the country?
No. The entitlement to bring a companion for free only applies within the VVS service area.