by John Reese
USAG Stuttgart Public Affairs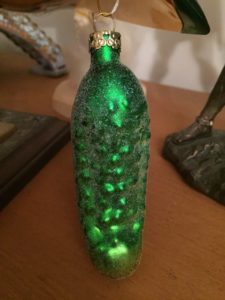 For Americans living in Germany, every day brings a new cultural difference. Two small but interesting differences are using pickle ornaments to decorate holiday trees and receiving a Beanstandung notice when the garbage man doesn't like the way you present your waste.
While shopping at an Exchange concession on Panzer Kaserne for ornaments to decorate a tree, you'll find a variety of delicate glass pickles that defy explanation. Although it has become an accepted tradition in Germany, the story of why a pickle ornament would be decorate a tree gets pretty murky and seems to originate in America rather than Deutschland.
The most acceptable version is the tradition began in the 1890s as glass fruit and vegetable ornaments from Germany or France were imported for Woolworths. Another version dates to an 1864 story about a Bavarian-born Union Soldier named Pvt. John C. Lower. Lower was a starving prisoner during the Civil War being held at Fort Sumter, S.C., and was on the brink of death when a guard gave him a pickle that sustained him enough to make it a family tradition.
Yet another version from a pickle-growing region of Michigan from the Victorian age credits St. Nick rescuing Spanish children from an innkeeper who held them captive in a pickle barrel.
The current tradition is to hang the pickle on the tree last, and the first person to find it gets to open the first present, get a reward of some kind or will have good luck in the coming new year.
The Beanstandung (complaint notice) is a lot less amusing. Landkreis Tübingen and other counties in Germany have specific rules about how restmüll (regular trash), bio, recyclables and other refuse is collected. Failure to follow the rules results in your trash not being collected and a rebuke telling you why, meaning you get to keep your trash until the next collection day. Reasons include being too full to close the lid; packing too much trash into the container; the contents were frozen; you didn't separate the types of trash correctly; you put an excluded substance in the can that can't be collected; you aren't supposed to be putting out trash because you haven't paid your trash collection fees; or "other," providing a blank space for the collector to explain his reason for not taking it.
Since it's not permitted to dump off-post trash in dumpsters anywhere on U.S. Army Garrison Stuttgart installations, abiding by the rules for trash collection will avoid storing that you desire to be gone. The next time you visit your local city hall for yellow recycling bags, ask about the rules and schedule for your town's trash collection.