By Carola Meusel
USAG Stuttgart Public Affairs Office
This year, Easter or as Germans say, "Ostern," is celebrated April 1. During Easter, Christianity celebrates the resurrection of Jesus Christ.
The festivities traditionally start with Good Friday, one of the most highly observed Christian holidays where people commemorate Jesus' crucifixion. Good Friday also marks the last day of the holy week and the end of the 40-day fastening period that started on Ash Wednesday.
In Germany, Easter is celebrated for four days: Good Friday; Easter Saturday, when Jesus was entombed; Easter Sunday, when Jesus rose from the dead and Easter Monday, a German federal holiday.
Some believe the word "Easter" refers to the direction of sunrise. Reflecting on the Christian tradition, the rising sun is a symbol for the resurrection and the homecoming of Jesus Christ.
Easter also marks the beginning of spring, a season that cherishes rebirth, renewal and growth. Germans like to ring in spring by filling their homes with fresh flowers and other Easter decorations.
"In spring, people typically prefer tulips, daffodils and buttercups. With the first sun rays and warmer days, most Germans spring clean their homes and feel like decorating with fresh flowers and plants," said Lena Gschwind, a florist in Esslingen.
Tulips are typically the flower of choice, according to Gschwind. Other Easter decorations include painted eggs, rabbits, hens and chicks as well as wreaths and nests for decorating a homes' front door or the dining table.
People also like to arrange blooming branches along with birch tree and pussy willow branches in a large floor vase and decorate the branches with hand-painted eggs. As for this year's trend, metallic-colored eggs are what people prefer, Gschwind said.
The tradition of artfully painting eggs dates back to the ancient world. Inspirations came from Greece, Italy, Russia and Armenia. During the 13th century, the first painted Easter egg was mentioned in an official document in Germany, where it also became a symbol for fertility.
The colors of the eggs have specific meanings. For example, red symbolizes Jesus' sacrifice, yellow is enlightenment and wisdom, green means youth and innocence, and orange stands for strength, resiliency and ambition.
Painted eggs are also used throughout Germany to add grace to "Easter fountains," a tradition that originated in Franconia.
To this day, fountains in smaller towns and villages are decorated with eggs, multicolored ribbons, wreaths, tulips and daffodils. Other decorations include Easter nests that are made out of branches and moss and are typically filled with eggs, wooden bunnies or chickens, Gschwind said.
In Germany, Easter Sunday is traditionally celebrated with close family. Often times, the festive day starts with an Easter brunch and is followed by an Easter egg and nest hunt in the garden or out in the woods.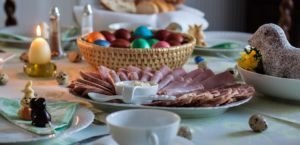 Much like in the U.S., many European children search for their Easter nests, which are filled with chocolate eggs and bunnies or other smaller presents and candy.
Another tradition during Easter Sunday is to serve baked goods such as a sweet cake shaped in the form of a lamb (a symbol for the resurrection), shortbread cookies, and Easter bread and rings with almonds or sesame seeds, during breakfast or afternoon tea.
View a recipe for a traditional Easter bread wreath here.
Whether you're German or American, Easter is a time for families and friends to celebrate traditions, regional customs, values and the arrival of spring and its new beginnings.