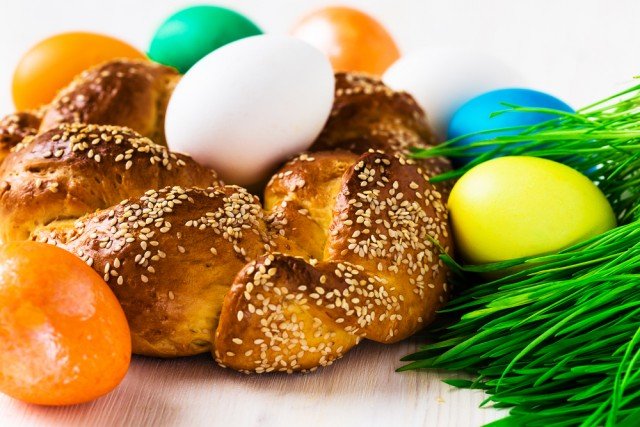 By Teri Weiss
Special to The Citizen
The "Osterkranz," or Easter wreath, can be considered one of the most popular Easter treats in Germany. The braided, sweet yeast dough cake-bread is usually adorned with painted eggs.
Those looking to put their German baking skills to the test, might be interested in the following recipe:
Ingredients:
• 4 cups flour
• 2 packets of active dry yeast
• 1/2 cup of butter
• 1/2 cup of sugar
• 1/2 tablespoon salt
• 1 cup buttermilk
• 2 egg yolks
• 2 beaten egg whites
• 3 or 4 additional dyed eggs, sugar or sliced almonds for decoration if desired
Preparation:
In a large bowl, mix 1 cup of flour with the sugar and salt. Make an indention in the middle and add the yeast, a teaspoon of sugar and 1/4 cup of lukewarm buttermilk, mix well and let sit until yeast is active.
Combine the remaining3/4 cup of buttermilk and butter in a small saucepan and heat gently until the milk is lukewarm and the butter is softened but not melted.
Mix the yeast mixture into the flour. Gradually add the milk and butter mixture to the flour mixture, stirring constantly. Add the egg yolks and1/2 cup of the flour and beat well. Continue adding the flour1/2 cup at a time, mixing well after each addition. Turn the dough out onto a floured surface and knead until smooth and elastic, approximately eight minutes. (These steps may also be done with a mixer fitted with a dough hook.) If the dough seems too thin to braid, knead a bit more flour into it. Cover the dough with a kitchen towel and let it rise in a warm place until doubled in volume.
Punch the dough to deflate it and turn it out onto a lightly floured surface and knead once again. Divide the dough into three parts and roll into long ropes (about 20 inches long). Lay the dough ropes on a baking sheet lined with parchment paper and braid the ropes together. The braid may be left as is or formed into a wreath shape. Press the ends to help them stick together. For an extra special wreath, a smaller wreath may be made and placed on top of the larger wreath. Alternatively, smaller wreaths, called birds' nests, can also be formed.
Cover loosely with a damp towel and let the dough rise until doubled in volume. Brush the braid or wreath with the egg whites and sprinkle with sanding sugar or sliced almonds for decoration, if desired. Bake in a preheated 350 degree oven until golden brown. Cool on a wire rack and wrap well in aluminium foil until ready to be eaten. Place a couple of dyed eggs on top in the middle of the wreath for color and contrast.
1 slice (about 100 grams or 3.5 ounces) = approximately 380 calories
Enjoy and "Frohe Ostern," happy Easter!