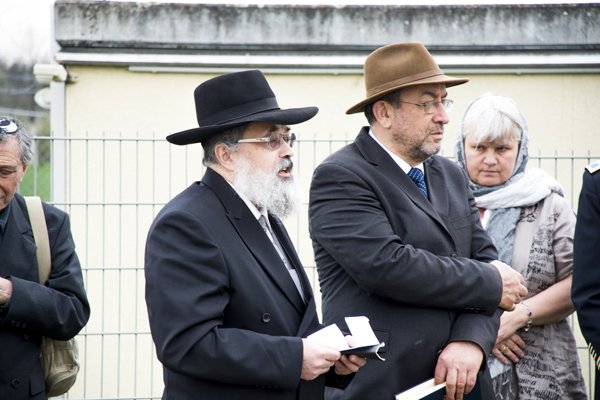 By Greg Jones
USAG Stuttgart Public Affairs Office
Known at one time as Hangar 13, a simple, aluminum-sided building sits near the entrance of what is now Stuttgart Army Airfield. To most passers-by it could be any hangar on any airfield. To those who know its history, this hangar, a nearby gravesite and a memorial just outside the airfield gate serve as solemn and stark reminders of a darker time 70 years in Germany's past.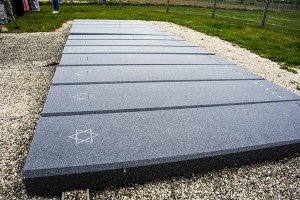 In late 1944 and early 1945, the Allies were tightening the noose on the Nazi regime. Across Germany desperate Nazi troops were taking extreme measures to keep Hitler's brutal war machine running. Among these was working concentration camp prisoners quite literally to death.
At the unassuming Hangar 13, 600 prisoners were housed from late 1944 to early 1945, and at least 119 of them died during that time, though some reports claim many more died. The prisoners were brought to the airfield to help repair damages to the runway and other facilities from Allied bombing.
In the aftermath of World War II, it was difficult for the Allies to find solid information about the disposition of those who died in concentration camps and similar facilities. At the Stuttgart airfield site, it is known that 19 dead were cremated, and a mass grave of 66 was discovered in 1945. Most recently in 2005 another mass grave, this one with 34 bodies, was discovered by workers excavating for a construction project.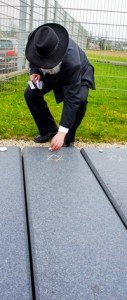 Investigations were conducted and the area on the airfield where the bodies were discovered was converted to a gravesite in Jewish tradition, and the bodies of the Holocaust victims were reburied there.
Now, 10 years after that grisly discovery and seven decades after World War II, it is as important as ever to remember what happened at this site and others throughout Germany, according to Rabbi Shneur Trebnik of the Israelite Religious Community of Württemberg, who attended a commemoration ceremony April 16 at the gravesite.
The ceremony was marked by a prayer offered by Rabbi Netanel Wurmser, State Rabbi of the Israelite Religious Community Württemberg, and a prayer song by a traditional Jewish cantor.
After the prayers and a short moment of silence, those gathered placed simple white stones upon the graves, in accordance with Jewish tradition.
"We place the white stones on the graves to remember those who died," Trebnik said. "It's very similar to the practice of placing flowers on a grave, but in the Jewish faith we believe a gravesite should be a somber place. It should not feel comfortable here. It should be somber and remind us of the history here."
After the stones were placed, many of those gathered took a few minutes to visit the Holocaust memorial that was erected in 2010. The memorial consists of two paths, and the inscription "Wege der Erinnerung" or paths to remembrance, adorns one of two white walls. These white walls sit along one of two intersecting paths that point towards the site of the mass grave and the hangar. A sound system built into the memorial continuously plays the names of the 600 prisoners who were kept at the site between 1944 and 1945.