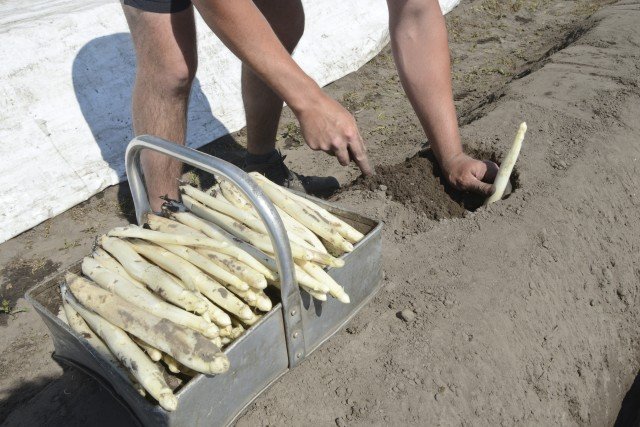 By Teri Weiss
Special to The Citizen
For many Germans "Spargel," or white asparagus, literally epitomizes springtime. The harvesting and eating season, or "Spargelzeit," begins early to mid-April and typically ends June 24, the feast day of St. John. This adheres to the old farmers' almanac rule: "Kirschen rot, Spargel tot." "When cherries are red, asparagus is dead."
There is some truth to this; asparagus plants must "rest" to gather strength for next year's growth.
During Spargelzeit, and for the rest of the year, Germans consume more than 70,000 tons of the elegant, pale vegetable, according to the German Agricultural Marketing Board.
Cultivated by ancient Egyptians, Greeks and Romans, asparagus has long been cherished for its delicate flavour and as one of the first vegetables of spring.
Germany's white asparagus is grown entirely submerged in earth in fields of long, plastic foil-covered rows of knee-high sandy soil mounds that protect the slender stalks from sunlight and prevents them from photosynthesizing and turning green. The lack of exposure produces the vegetable's subtle flavour, less robust than that of green asparagus. Asparagus is harvested just before the tips break the earth's surface with a special knife that cuts through the soil.
Remarkably rich in nutrients, but low in calories, asparagus is a very healthy food. It packs a nutritional punch since it consists of 93 percent water, 2 percent protein, 4 percent carbohydrates, and only 0.2 percent fats. About 150 calories per kilo, asparagus contains potassium, calcium, iron, phosphorus and nitrogen as well as Vitamins A, E and K.
Baden-Württemberg is one of Germany's major asparagus-growing regions and has its own scenic "Asparagus Route" that runs 136 kilometers from the asparagus-producing town of Schwetzingen via Reilingen, Karlsruhe and Rastatt to Scherzheim.
In fact, the city of Schwetzingen claims to be the "Asparagus Capital of the World," and proudly holds an annual Spargelfest, or asparagus festival, as do many other towns in "Spargelland."
Historical documents indicate that the roots of German asparagus are to be found in the area around Stuttgart, where it has been grown since 1500. Until the 19th century it was planted exclusively for the ducal and the royal Baden and Württemberg courts, earning Spargel the nickname "Königsgemüse," or royal vegetable. It has also been called "Elfenbein zum Essen," edible ivory, or "Weisses Gold," meaning white gold.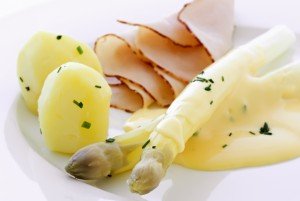 Typically, German asparagus is served with melted butter and new potatoes accompanied by hollandaise sauce, ham, salmon or shrimp, or with eggs. A fine local side dish is the Swabian crepe called "Kratzete," a "scrambled" thin pancake.
This spring, wherever you are, whether at home, in a "Gasthaus" or restaurant, indulge in this regional German delicacy while the season is "on."
Preparation
Methods of asparagus preparation can also range from simple to extravagant. Asparagus aficionados believe that asparagus should be cooked "the quicker the better." There is nothing quite like a fresh bunch of plump, straight stalks with crown buds tightly closed, right out of field, garden or market stall and into boiling water. Cooked "al dente" between 10 to 15 minutes, seasoned with salt and fresh cracked black pepper, and coated lightly with melted butter.
Unlike green asparagus, white asparagus has a tough, somewhat bitter peel that must be removed before cooking: Trim the lower 1/2 inch from the ends and peel each spear downward from the crown, then cook preferably standing in simmering water or vegetable broth (water, salt, sugar, lemon juice and butter).
By the way, the peelings and several whole stalks simmered for a while and served with whole cream make for a tasty asparagus soup.
Where to dine
Between April and June, nearly every restaurant in and around Baden-Württemberg and beyond offers white asparagus on the menu. Don't be surprised by the price. An asparagus meal is not cheap; when they say "white gold," they mean it.
Here are some local favorites:
Spargelbesen Fellbach
Höhe 1, 70736 Fellbach, between the "Schmidener Feld," or field, and Fellbach. Open until June 21 daily from 11 a.m. to 11 p.m. For more information, call civ. 0711-534128, or visit here.
Neuer Ochsen Stuttgart-Vaihingen
Schwabengalerie, Schwabenplatz 3, 70563 Stuttgart-Vaihingen. Spargel is served until June 30. The restaurant is open Monday through Saturday from 11 a.m. to midnight, Saturday from 11 a.m. to 9 p.m. and German holidays from 11 a.m. to 9 p.m. For more information, visit here.
Hotel Restaurant Ochsen Stuttgart-Wangen
Ulmer Strasse 323, 70327 Stuttgart-Wangen. Spargel is served until June 15. The restaurant is open Monday to Saturday from 11:30 a.m. to 2 p.m., and from 5:30-10:30 p.m. On Sunday and German holidays, the restaurant is open from 11:30 a.m. to 2:30 p.m. and from 5:30-10:30 p.m. For more information, visit here.
Das Stuttgarter Stäffele
Buschlestrasse 2a/b, 70178 Stuttgart. Spargel is served until May 21. The restaurant is open Monday through Friday from 11:30 a.m. to 2:30 p.m. and 6-11:30 p.m. Saturday, Sunday. On German holidays, the restaurant is open from 6-11:30 p.m. For more information, visit here.
Keep in mind that reservations are required for all Spargel meals at the above establishments.
Want to learn more about asparagus? Then visit the European "Spargelmuseum," or asparagus museum, in Schrobenhausen, Bavaria.